Dual Tue 09 January 2018
JOURNEY TO THE CENTER OF THE EARTH
Do you know the dawn of Earth? When that just baked fireball was cooling off and its irregular surface was wrapped in smoke and sulfurous fog as dark omens of an imminent explosion? Imagine that primordial silence, interrupted only by the blowing wind that throws volcanic sand in your face as if to consume your skin.
Iceland is all this: a contemporary picture of how our world looked like when dinosaurs roamed its surface, only without the dinosaurs, which is no small deal if you are visiting it on your motorbike!
"How can you not make such a travel back in time astride your bike?"
The virus encysted in my mind with this question exactly; for five years I only gave excuses instead of answers, until this summer when I stopped making excuses and gave myself the answer by setting the compass toward Reykjavík!
I must immediately make a mea culpa! I know, the travelling biker is his own guide, he organizes everything to a T and is one of few tourists who starts the journey six month before departure while choosing routes, trails and managing logistics.
I swear that I did all of this …. I studied the route, thought of equipment, lined up all my requirements, but for reasons connected to the motorbike rental, I relied on a package tour and this is probably the best decision I made. To leave alone would have given that romantic adventure senses to my journey, but I wouldn't have met my companions who are perhaps the most wonderful experience I brought home with me from the 66th parallel north.
There are six of us, we meet Marco, Egidio and Riccardo at the Malpensa airport, and Anton and Alex directly at the hotel in Reykjavik. The fleet of motorcycles is as fascinating as it is diversified; I'm the only one who rented a bike on site since I only possess a pure enduro bike, the others took advantage of the bike transport service offered by the ISLANDAINMOTO organization. I ride a BMW GS800, Marco a BMW GS1200, Egidio a KTM 950 Adventure, Riccardo a BMWr100, Anton a brand new AfricaTwin and Alex (our guide) a KTM 690. From this one understands that we have no prejudice: Europe and Japan, traction control and carburetors! The same diverseness is found in our tires: Metzeler Karoo 3, Heidenau Scout, Mitas road-off road tires (not really right for this trip) Pirelli Scorpion Rally and Anlas CapraX (which surprised everybody for their quality and long duration!)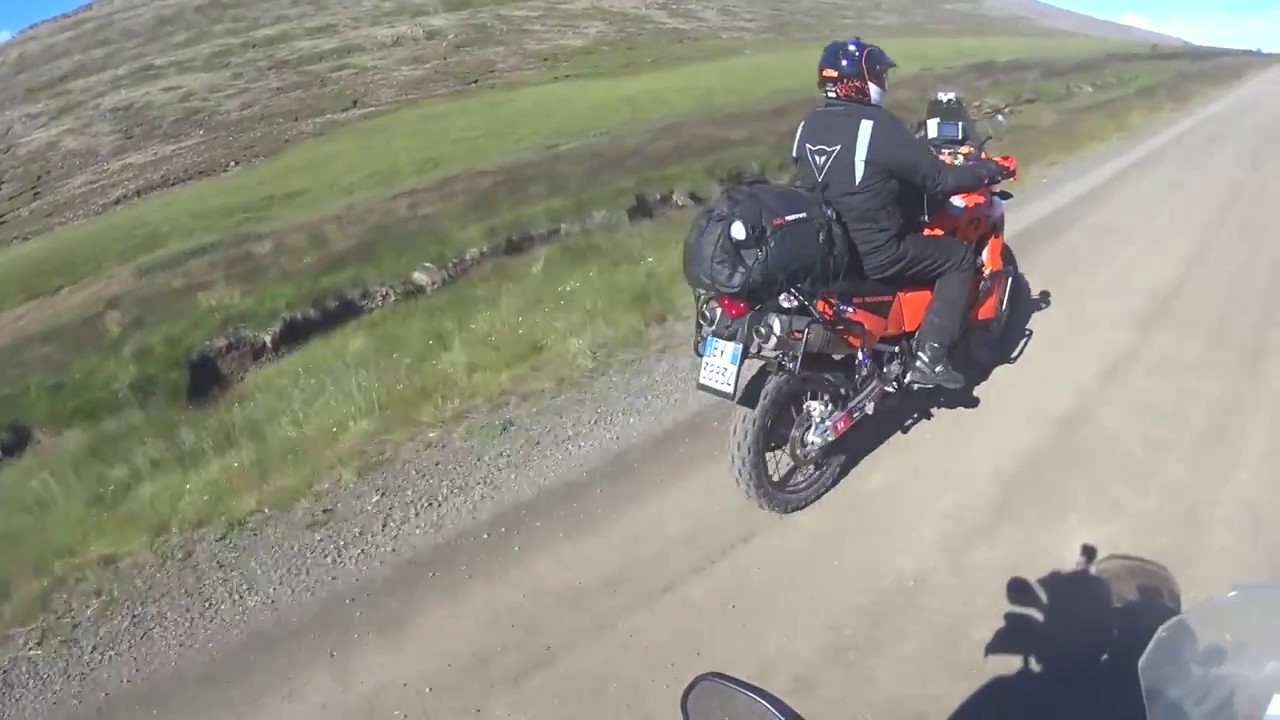 DAYS 1, 2 and 3
1st section Reykjavik – Geysir 250 km paved road + 60 km of easy trail (track 501)
2nd section Geysir – Reykir 30 km paved road +200 km of off-road (tracks 35, F734)
3rd section Reykir – Modalodur 340 km paved road along the ring road (road 1)
During the first three days we sized up Iceland and its deserts and savoring the incredible Golden Circle, the most visited area near Reykjavik to which all tourists are attracted as soon as they land.
We reach the Langjökull Glacier and then head towards Thingvellir, where the first parliament in the world, the Althing, was established in 930 AD. Here, the two tectonic plates are clearly distinguishable, the American to the right-hand side and the Eurasian to the left, separated only by a little stream. From Thingvellir we proceed to Gullfoss, one of the most imposing and popular waterfalls in Iceland, where the rumble of the fall combines with the magic of rainbows, and then to Geysir, where the Strokkur, the most famous geyser of Iceland, spouts water every few minutes.
The journey, across deserts and paved roads, takes us to Akureyri, the second largest city on Iceland with no less than 25000 inhabitants (yes, twenty-five thousand!). After a coffee and a walk downtown, we reach lake Myvatn, with its geothermal springs and boiling mud pits and then the impressive Godafoss, the waterfall of the gods!
We don't know each other well yet the group gets along easily, the funniest is Riccardo who never rode off-road, but with his BMW R100 made in 1991, he enjoys the desert. He is always laughing, you walk by him and can see and hear him chuckling infectiously behind his visor … even his "butt laughs", as he says, and you can't but laugh with him!
DAY 4
Modulardur–Askja volcano – Modulardur 200 km of dirt track with sand, gravel and fords (tracks F905, F910)
The journey to Askja is a trip through a desert with no rest area for hundreds of kilometers; a situation that can't be found nowhere in Europe. The track winds across heaths of packed dirt, gravel and amazing expanses of black volcanic sand intermitted by fords with crystal waters to be carefully and skillfully waded to avoid disastrous falls that would ruin the vehicle and probably end the vacation.
Tracks F905 and F910 take us to the volcano crater that has a diameter of 50 km; under the helmet I have tears in my eyes, I discover that Stendhal' syndrome doesn't occur only with works of art but even with nature's shows!
The desert, the real one! The moonlike landscape changes but stays true to a principle: "to amaze Westerners who are not used to nothingness". Volcanic rocks are almost weightless, the air trapped in the cooling lava flow makes them look like Styrofoam, they are red, yellow or purplish due to the oxidation of the metals inside the lava. Today Riccardo gave all he had in the most challenging sections and, assisted by this group of people who is getting closer day by day, he was able to take home this section of our trip; tonight, in the warmth of the rest area, he is walking on air and feels satisfied, but he was coming up with a bad idea …
WHAT A DAY!

DAYS 5 and 6
Day 5: Modulardur – Hofn 320 km of paved road (roads 1 and 96)
Day 6: Hofn - Kirkjubaejarklaustur 200 km of paved road (road 1)
The 5th will be the only rainy day of the whole trip. Riccardo decides to leave the group, making it to Askja completely satisfied his hunger for kilometers and his R100 made the decision easier by breaking down. The man who brought the sun to Iceland with his Emilian smile leaves the island and the sky of this country cries over his choice. We accompany Riccardo to the airport in Egilsstadir and proceed to Hofn and then towards Vatnajökull with its glacier lagoons Jökulsárlón and Diamond Beach, two of the most characteristic places in Iceland!
DAYS 7 and 8
Day 7: Kirkjubaejarklaustur – Hrauneyjar 30 km of paved road + 150 km of dirt tracks (track F208)
Day 8: Hrauneyjar - Hrauneyjar 200 km of off-road
We spent the last two days wandering the southwestern highlands, where reddish and rocky deserts become carpets of neon green moss typical of the Landmanallaugar, marked only by black sand trails that create spectacular contrasts.
Alex guides us to Hekla (the most active volcano in Europe) which is a maze of trails to be rode standing on the footrests and looking at the horizon.
We climb to the top of one of the volcano' secondary cones and the sceneries is unique, we descend towards the deserts below and our eyes fill up, we proceed to Langamellir and Fjallabak. Everybody considers these two destinations as the most fun because more guided and more technical, almost enduro trails, and maybe they are right, but I can't get track F910 (Askja) out of my head. We return to the hotel for our last night; we still have one fantasy. Iceland is the country of the Northern Lights par excellence, but it usually occurs in the winter and I feel selfish to desire this too.
And then ... there they are moving sinuously during the only two hours of dark of the summer night: a majestic show! The deserts, the weather, the friends and now the aurora borealis! It was hard to fall asleep that night. It was even harder to go back to work Monday.

CONCLUSIONS
It is very easy to travel in Iceland if one adapts a little. There is only one paved toad that circles the island (road "1" also named Ring Road), the government recognizes and maintains even inland tracks treating them as "normal" roads complete with direction signs even at forks in the middle of nowhere where, hear ye, hear ye, there is 4G signal. This makes it less poetic but safer.
It is very expensive, except for gas that costs the same as in Italy; multiply any expense by 3/3.5 with respect to Italy.
The worst thing you can do in Iceland is to go off the marked trails; fines are hefty, and you always get caught, I don't know how, but it always happens!
A trip like this surely confirms that one travels with his soul too, independently of the means used and that, even if different in characteristics and tendencies, every motorcycle can be used for travelling.
No need to discourse about shaft drives or lack of heated hand-grips, especially if amongst these Austrian-Germanic rambling fighters there is a Japanese silently laughing.
"For more information on Anlas products and prices visit www.innova-box.com"
Text and photos: Dario Lupini