Dual Tue 12 September 2017
Mongolia 2016 25000 km round trip to Central Asia
A dream come true: returning to find Kazakh friends, riding along the Silk Road and the Pamir Highway, crossing the Mongolian Steppe and coming back through the immense Siberia.
INTRODUCTION
The urge to travel combined with a greater amount of free time brought us to plan a new adventure with our motorbikes which took us, in 65 days, as far as Central Asia and precisely to Mongolia, partly following the Silk Road, on which Marco Polo once travelled. For many long months we planned this trip, with our friend Mark, to return to Kazakhstan where I worked for 8 years, and reach Mongolia to return through Siberia and Russia. Another friend, Claudio, also involved in the project, joined us with enthusiasm, even though for reasons of work, he had to limit his trip to Almaty in Kazakhstan. In Mongolia, we were joined by our wives Paula and Adriana who accompanied us as far as Ulan Bator.
Bikes used:
KTM 990 Adventure (2011), Africa Twin RD 03 (1989), Africa Twin CRF 1000L – (2016).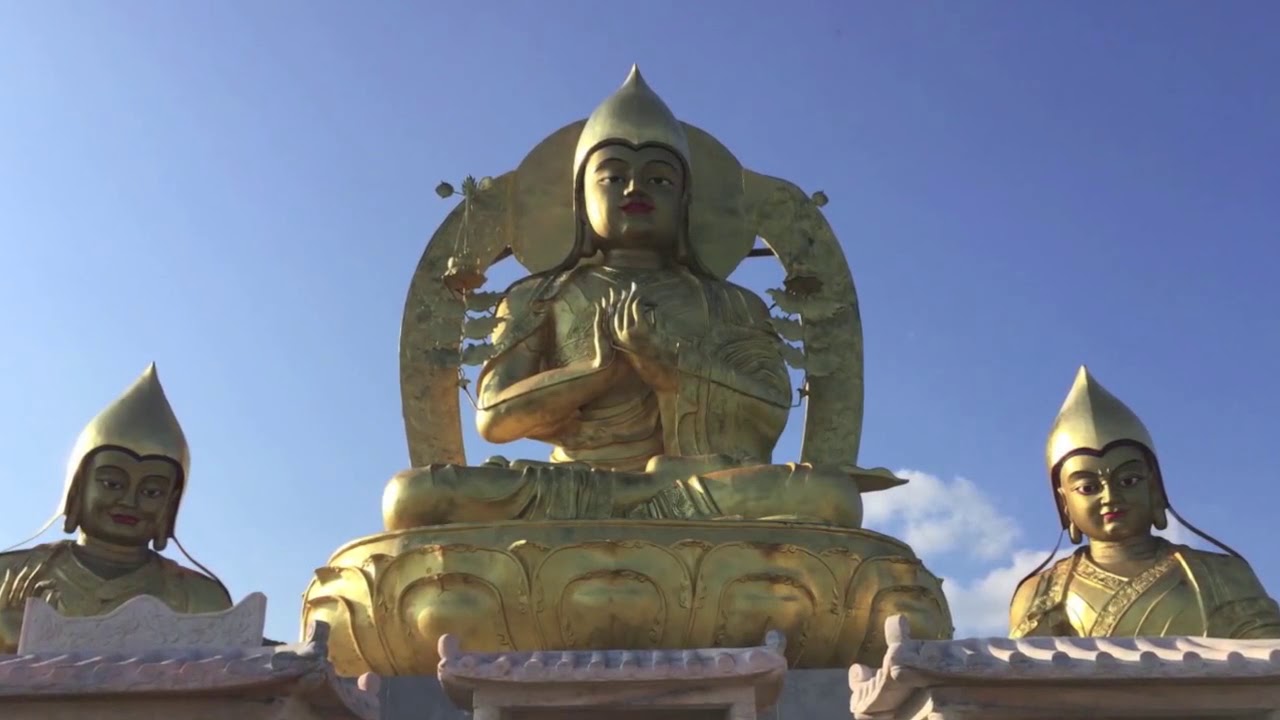 OUTBOUND: BRESCIA – ULAN BATOR 1501 KM 44 DAYS
RETURN: ULAN BATOR – BRESCIA 9849 KM 21 DAYS
MAY 15th – May 21st BRESCIA – AKSAI (KAZAKHSTAN): 4235 KM
The journey began in the rain that stayed with us for the first 5 days. Almost winter temperatures in Poland and Ukraine. In 8 days we crossed through Slovenia, Hungary, Ukraine and Russia to Kazakhstan. However, we were able to admire Ljubljana, Budapest, Leopoli and Kiev. Warm welcome in Aksai, where my ex-colleagues organized a celebration on our arrival. A problem of a leaking gasket on the exhaust manifold of my KTM was fixed up in Kiev.
MAY 23RD – JUNE 1ST FROM AKSAY TO DUSHAMBE (TAJIKISTAN): 3196 KM
Going towards the Caspian Sea, the heat immediately kept us company and it got sweltering going into Uzbekistan. Terrible roads in Kazakhstan and police were in ambush to collect money. The Uzbek cities along the Silk Road were magnificent. Khiva, Bukhara and Samarkand fascinated us with their beauty. The Uzbeks were very friendly. The scarcity and the poor quality of the petrol gave us some problems.
JUNE 2ND – JUNE 11TH FROM DUSHAMBE (TAJIKISTAN) TO ALMATY IN KAZAKHSTAN: 3100 KM.
This was perhaps the most enjoyable part of the trip. We drove along the Pamir Highway to Kirgizstan and from there we returned to Kazakhstan. A lot of difficult stretches on dirt roads but breathtaking panoramas along the Whakan Valley where the Panj River separates the country from neighbouring Afghanistan. Widespread poverty but a lot of friendliness towards us on the part of the inhabitants. Persecuted by blowouts. Food and accommodation barely acceptable. Tiring stretches but great fun on our bikes. Surprising beauty of Kirghizstan, very green and with thousands of animals grazing. In the background mountains of 7000 m. In Bishkek we met up with some of my ex-colleagues on board an FJ Cruiser with whom we spent 2 days enjoying ourselves on some off-road tracks near lake Karakol. In Almaty a bike check up and fitting of knobby tyres.
JUNE 12TH – JUNE 17TH FROM ALMATY (KASKHSTAN) TO OLGJI (MONGOLIA) 2642KM.
After saying goodbye to my friend Claudio who went back to Italy, sending the motorbike by plane, we crossed a sweltering eastern Kazakhstan and we entered Russia at Bernaul. Heading south after having crossed the green Altai mountains with impressive rivers, we entered Mongolia from the east, reaching Olgji where the next day our wives Paola and Adriana arrived by plane. Problems with the power commander of Marco's Africa Twin. Fortunately, the new ones arrived from Italy.
JUNE 18TH – JUNE 27TH FROM OLGJI TO ULAN BATOR (MONGOLIA) 1918 KM
Having an all-terrain minibus travelling with us that organized the camps, in 8 days we crossed a very green Mongolia on good tracks of flattened earth. Some nights we slept in a tent, others in the characteristic Gers. Thousands of grazing animals kept us company along the way. Visits to monasteries and the Khorgo volcano. Ulan Bator was a disappointment.
JUNE 28th – JULY 7th FROM ULAN BATOR (MONGOLIA) TO AKSAY (KAZAKHSTAN): 5790 KM.
After seeing off Paola and Adriana, we left Mongolia and entered Siberia, going through Irkutsk on Lake Baikal. Long days on the bike and long stretches of road every day travelling through Siberia,never boring. Excellent Russian roads, acceptable traffic. Return to Kazakhstan via Orenburg and another stay in Aksay where, once again, the welcome by my friends was not lacking. Oil change and fitting of new tyres.
JULY 8TH – JULY 18TH FROM AKSAY (KAZAKHSTAN TO BRESCIA: 4059 KM
Final sprint to Brescia even if, because of unusual wear of the cogwheel of my ADV 990, we had to stay put in Saratov for two days waiting for the spare parts. The programme originally included returning to Italy via Caucasus and The Balkans but an interruption of the road that connected Russia to Georgia forced us to return from the north via Ukraine. This, however, saved us from finding ourselves in Istanbul in the days of the coup. So we travelled across Ukraine and Poland, stopping in Auschwitz and, going through Austria, we got back to Italy.
FINAL CONSIDERATIONS AFTER A JOURNEY OF 25000 KM ON MOTORBIKES TO CENTRAL ASIA
Journey numbers:
Total km: 24,940 of which 1800 on dirt tracks .
Total days of travel: 65 of which 52 on bikes.
Days of stopover: 13.
Average daily travelling : 489 km.
Fuel consumption: 1460 l.
There were so many moments we experienced, people we met and places we visited impossible to forget. However, some deserve a special mention.
Travelling companions.
Marco and Claudio were two exceptional companions, with whom I have shared many trips on bikes and on skis and also this time they confirmed the value of friendship, especially in various everyday situations. Marco, an expert and competent for any problem regarding the bikes, gave us tranquillity in every difficult situation and against his will, he sometimes had to put up with the morning frenzy of his travelling companions. Claudio, on his first major voyage, brought enthusiasm and curiosity to the team, suggesting excellent restaurants and tourist destinations. For reasons of work, he wasn't able to stay for the complete journey but there will be other occasions for him too.
Our wives: Paola, Adriana and Anna.
They patiently accepted all our concentration on the preparations for the journey and the long absence. Paola and Adriana shared the trip through Mongolia with us, which in some moments for various reasons, required a great spirit of adaptation.
Our friends in Aksay
Great welcome and warmth on our arrival. The affection and friendship we received, together with the enjoyable moments spent in Aksay are amongst the fondest memories of this journey. In particular, Mirkamal, efficient, untiring and cheerful. He did a lot to organize the festivities on our arrival and to help us during our stay in Aksay. Unforgettable the trip to the salt lake where he also prepared a tasty picnic. Rustem, unstoppable and explosive. The excursion to the lake Isyk kol with the crazy FJ cruise team, organized by him was very entertaining and he made us meet a lot of likeable people.
The Blue Wolfe team
They accompanied us on the crossing of Mongolia, doing their best to organize the trip, even in difficult situations. The good cook Janka let us taste excellent Mongolian dishes prepared everyday with very limited means.
Alex Jamaha Saratov
He was instrumental in solving a problem with my bike, allowing us to avoid being stranded. A great demonstration of helpfulness and seriousness.
The mechanics of the journey
Riky, Sergey, Dimitri ,Serik: we met them in various places and they helped us solve a few technical problems and do maintenance on our bikes with competence and kindness. Well done!.
Our Kazakh friends
Aibar, Almas, Yertay, Yerzhan, Aibek: Demonstration of great hospitality and friendship. They helped us get to know Kazakhstan a little more profoundly and to experience the Kazakh Banjas.
Motorcycle globetrotters
We met several, solitary, courageous, who travel around the world unhurried with meagre means but with a great spirit. A lot of admiration and a bit of envy.
The children of Pamir
The most friendly and smiling. A great race to see us, greet us and give us five. Ready to jump on our bikes. So many in all the most remote villages, badly dressed but full of life. Beautiful.
The places visited during the 65 days of travelling, and that impressed me, are really numerous.
The European cities
Budapest, Ljubljana, Krakow, Kiev, Graz. Beautiful, full of history, alive. We saw them in a hurry but they left us a beautiful image.
The Uzbek cities on the Silk Road
Khiva, Bukhara, Samarkand. Beautiful, fascinating with so much history in their madrasas. A most enjoyable discovery to return to.
Pamir
Travelling on the Pamir highway and along the Wakhan Valley, we discovered a surprising region with impetuous rivers, snow-covered mountains of 7000 m. and passes above 4000m. Where life is hard but the smile is not missing. Without doubt the most magnificent panoramas of the journey.
The Mongolian Steppes
Endless, without boundaries, with millions of grazing animals and a free and independent people to look after them. An intense green everywhere. A simple life but not easy. Until when? Progress is hot on their heels.
Siberia
One word, immense. Thousands of kilometres of forests and lakes. Never boring but a bit mysterious. Grandiose are the rivers that flow through it and on whose banks there are big cities full of life and beautiful women.
The Kazak steppe
It can be monotonous but I find the sky above it quite striking. It is easy to imagine the hoards of Genghis Kahn who crossed it on horseback.
Auschwitz
The memory. It is a very sad place. To be visited almost in silence. It's not possible to forget it.
There are also some aspects of the village that we didn't like.
Crossing borders
We crossed 18 borders, 13 of which were with customs control. Some of them were long, up to 5 hours, meticulous, with incomprehensible documents and impolite officials. We needed a lot of patience and self control to get through unscathed. Arriving in Europe without borders was a liberation. Let's hope it stays that way.
The Kazak police
Waiting with the most sophisticated means to ambush motorcyclists and motorists to get money out of them. They caught us three times. Not a pleasant meeting. But the Kazaks that we know are different.
The roads in Central Asia
They are in a very poor state of repair with numerous potholes that put our tyres to a severe test. Several blowouts, fortunately there are tyre shops everywhere. Magic Word: шиномонтаж
The Mongols
They have a rather invasive attitude, which we didn't like. They also seldom smile. Maybe that's their character.
The toilets on the road
Once outside Europe, the hygienic conditions of the toilet facilities along the road are very bad. In general a hole dug in the ground in run-down wooden constructions. In Mongolia they are like that even in some hotels or Ger camps. You need a great spirit of adaptation and a strong stomach to put up with them.
The Siberian mosquitoes
Millions of them, ready to eat you anywhere. Stay covered, constant use of Autan.
Text and Photos by Giacomo Tognoli.