Dual Thu 29 March 2018
TIRRENO-ADRIATICA Travel story
It was supposed to be a relaxing weekend trip, not the usual motorcycle ride that starts and finishes at home after following the same old, but always beautiful, roads. Three carefree days riding with friends. Six of us left Massa Carrara early on a Friday morning headed for the other side of the boot (other way to indicate Italy for its shape). From the Tyrrhenian to the Adriatic Sea following dirt and state roads, and then backtracking to Turin.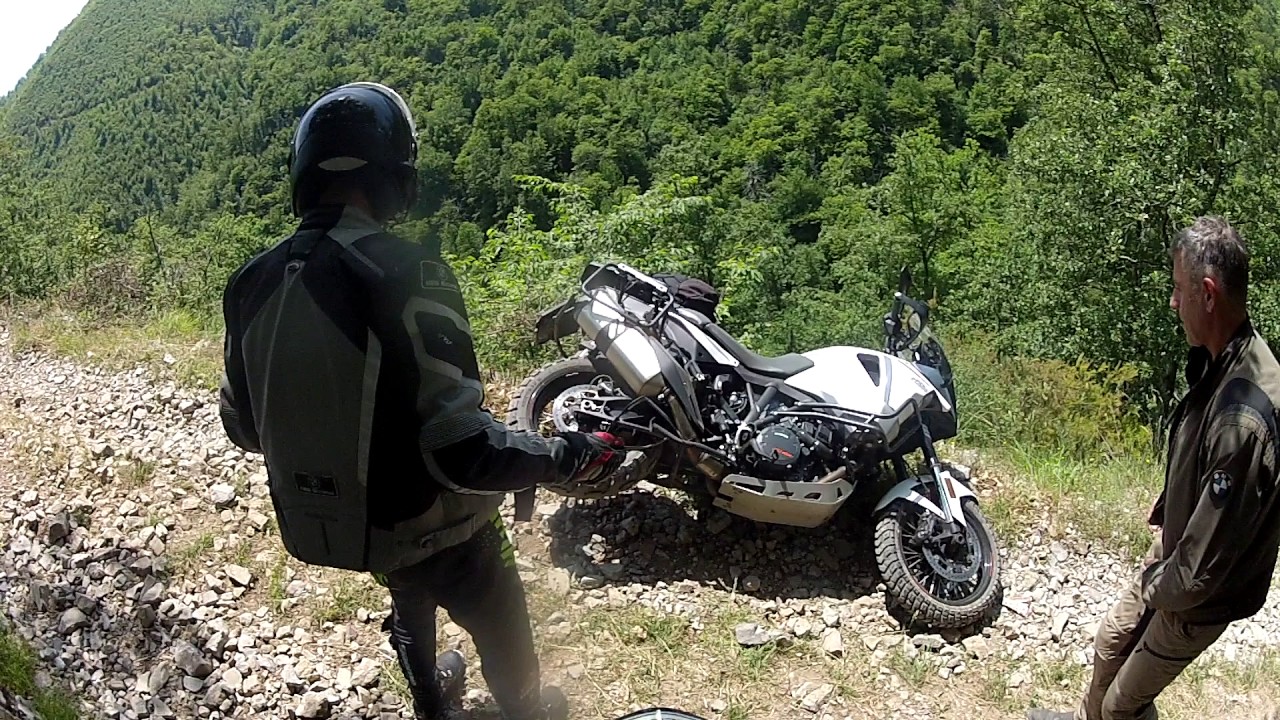 None of us could have anticipated that only two of the original six participants would finish the trip. At the beginning there were: Gianluca, who came up with the idea of the tour, Filippo, Mauro, Cristiano, Schon and me (Marco), a group of expert friends equipped for every eventuality, with tents, knobby tires, protective gear and any other thing we could think of. After admiring Carrara's marble quarries, we take an easy dirt road at a good pace and with some headway between us to avoid eating too much dust; suddenly Schon's bike, who is in front of me, starts weaving like hell. I stop with him and he says: "I got a flat tire!" I look at his rear tire, but it is perfectly inflated. We get off our bikes to take a better look. Schon detects a broken spoke, then two, three, four …. six severed spokes! "How can that be?". Not able to answer the question, we put the bike on its central kickstand to repair it with Schon's spare spokes. While we are at it, we note that the bike is losing its cardan shaft; now it's clear: the screw that fixes the cardan shaft to the bike loosened and fell off, who knows where, shearing the spokes. Schon decides to look for it and incredibly finds it not far away. Unfortunately, none of us have the right wrench. At 4.30 pm Schon is the first one to return home with six broken spokes and a cardan screw tightened by hand; after many kilometers at an almost walking pace he finally reaches Vicenza. Just a few days ago he told us that on his way back he lost another screw nut, so he stopped and used a nut from the guardrail after removing it with a 17mm wrench. The screw nut is still on his bike!
After saying goodbye to Schon and with a delay of more than 2 hours, we are on our way again. At 8.30 pm we are scheduled to be in Rimini, but we only covered a quarter of the way.
Still sorry for what happened, we reach the top of the dirt road where we find a 'no trespassing' sign. We need an official permit to go on. At the very idea of backtracking, we unanimously take the very Italian decision of proceeding, making up some excuses to use in case the police stopped us. But after a few km on this dirt road, the concern of being outlaws gives way to the concern for Mauro, who comes from on-road riding and is probably the less experienced in off-road, and who joined us captivated by our stories on the beautiful places in the wild that can be reached on a motorcycle. And it's in the wild that we risked losing him! All because of a steep, rocky drop-off where he loses control and falls. Fortunately, his bike remains on the brink of the road, but Mauro rolls down for meters stopping against a tree. Assuming the worst, we run to help him and when he emerges from the bushes panicked, we are all relieved to see him. But only after the bolt of adrenaline subsides do we start laughing our heads off and continue laughing when we see that the ABS is still engaged when we pull up the motorcycle.
Despite the "All's well that ends well" Mauro, who absolutely doesn't want to continue, abandons the motorcycle and reaches the first signs of civilization by foot. It's Filippo and Cristiano who must go back to take care of the machine, which isn't easy given the difficult trail, the weariness and the enormous delay.
This delay is the reason we decide to switch to a safer highway. Around 8.30 we get to Rimini and setup the tent at the camping site we had booked. We still aren't aware of what the night has in store. After a well-deserved seafood dinner in a nice restaurant in the hills of Rimini, we go back to the camping. Even if it's June it is rather crowded, and our tent is positioned a bit out of the way.
In the beginning we feel lucky for the position, but we soon discover that on the other side of the hedge there is the railway! Express trains, long-distance trains, local trains and so on and so forth, fill our night nonstop, so no shuteye for any of us. Around 3 in the morning our German neighbors decide to finish their last beers while chanting in their native language. We can't stand it anymore. Cristiano, nice and calm in English, tries to talk them out of it, then it's Mauro's turn with a few international vaffa## but it is only thanks to Gianluca (195 cm and 110 kg) who, without a word, knocks down the first using his belly forcing the other to seek refuge in the RV.
Saturday' sunrise isn't without surprises. Mauro, who is scared to death even to ride on the camping dirt parking lot, decides to return home. Only after a few days and some X-rays will he discover that he broke two ribs when he fell.
Even Cristiano, disheartened by the events, decides to leave us in the evening but then changes his mind, only to bitterly regret his decision in the following days.
So, there are three of us left. Luckily, both the landscape and the route are spectacular and I'm able to take many pictures and videos as souvenirs of this weekend. But this isn't an ordinary Saturday. This evening there's the Champions League Final game. Sadly, I'm the only soccer fan and one of the two teams playing is my favorite: Juventus. For our overnight stay an ad hoc television is essential. In fact, as soon as we reach the camping site I'm relieved to see a beautiful television. Unfortunately, due to a misunderstanding caused by unread or not received emails, I don't remember which, the owner doesn't have our reservation. We start arguing, this I do remember, but in the end, we must leave risking to miss the game. Once again, we are lucky; a few kilometers away we find another camping site: we can sleep, eat and, above all, watch the game. After taking care of our bikes and setting up our tents we discover that the television is no bigger than an iPad. Well, I think, as long as I can watch the game. In an unexpected happy moment, I strike a deal with Gianluca and Filippo: I will pay for dinner if my team, Juventus, loses. Now, if you are a soccer fan, you know how it ended. If not, I'll only say that I paid for dinner and two bottles of Brunello of Montalcino!
Sunday morning, after a swim in the camping wonderful pool, we are off again. We are slightly tensed. What is in store for us today? Fortunately, the weather is good, and the off-road routes of Tuscany are fantastic. Well done Gianluca, the trip you organized is splendid, I think to myself while I'm riding on. My mind goes to what we missed on our first day and I'm sorry that Mauro, Cristiano and Schon aren't here to share all of this. I decide to take advantage of a view that only the hills of Tuscany can offer, to take a few pictures of my friends. Maybe it's the heat, the exhaustion or simply bad luck again, but when I stand up I feel pain in my chest. Muscle strain! Off-road is now out of question, it is too dangerous to manage my bike in my condition. So, it's my turn to head back home reluctantly leaving the last two survivors of an incredible weekend.
One always hopes everything is going to go well on a trip. But if this doesn't happen, do not despair. Most often it's the misadventures that will make the trip unforgettable.
Text and pictures: Marco Dionigi