Dual Wed 07 March 2018
Tour of the Balkans first part
Yes, I am dynamic and tireless: I filed 2017 as a year lived on two wheels; up to December I covered as many as 32.000 km. After my wonderful adventure in South America (January/March) and roaming endlessly up to June (including the 6th Albertolarossa Tour) I asked myself: where to this summer? Looking at a map of Europe, I think and point my finger: the Balkans. Yes, let's go to a part of the continent I haven't visited yet; eastwards, I've been to Hungary (twice), Croatia, Slovenia, Slovakia and the Czech Republic, that's it.
So, I start jotting down the route that in 25 days will take me to Romania, Bulgaria, Turkey, Greece, Serbia, Bosnia and Croatia.
To roam and wander on a motorbike is wonderful but so is sitting at your desk surrounded by maps, surfing the web (a great help nowadays) while planning your trip: the adrenaline starts to flow, the mind travels while entering distances, stops and places to visit in a spreadsheet.
It will be a solo tour, since my love, Cristina, cannot come due to her job; this doesn't scare me, indeed I must admit travelling solo excites me and offers a special atmosphere. The symbiosis between you and your bike strengthens, almost as if it were part of the family, and the allure of adventure becomes stronger. I can set my own pace, without rushing, to savor my trip.
Slow Biker: this is my motto!
In one month I plan the trip, gathering information on where to go and what to see and this is when you start taking in the Culture, with a capital C, since this is the purpose of trips: to increase your knowledge and experience.
Well, no more chitchat and let's start.
I love numbers, so I decide to leave on 17/7/17, even because my Red Ride turns 20, the last 16 spent with the undersigned (it only had 12.000 km when I bought it!).
I leave in the afternoon, after saying goodbye to Cri, the love of my life. My first stop is in Trieste where I'm hosted by my biker friends Lucio, Tiziana and Giacomo. A lovely night, chats and laughter. Great friends! The real trip starts the next morning, a 900-km stretch that, through Slovenia and Hungary, will take me to Oradea in Romania. It's all highway and I stop only for fuel, lunch and at country borders. I reach the hotel at 7 pm local time (my travel actually lasted 12 hours since in Romania I must set the clock back one hour) and I immediately notice something ackward: I have to park the bike under the main gate arch since the hotel doesn't have parking space. Not easy to get in. The following morning a surprise awaits me at the gas station: 1 liter of premium gas costs € 1.01, a godsend! From Oradea I head north through fields of crops, mostly sunflower, towards the area of Maramues which I would like to visit during my first week; this area is full of monasteries and characteristic wooden houses and churches. Along the way, I note stork nests on the top of the poles that line the road (I will see them throughout my trip) and I stop to have a better look: the nests are enormous and sometimes house up to 6 chicks with the parents flying back and forth to feed them. What a sight!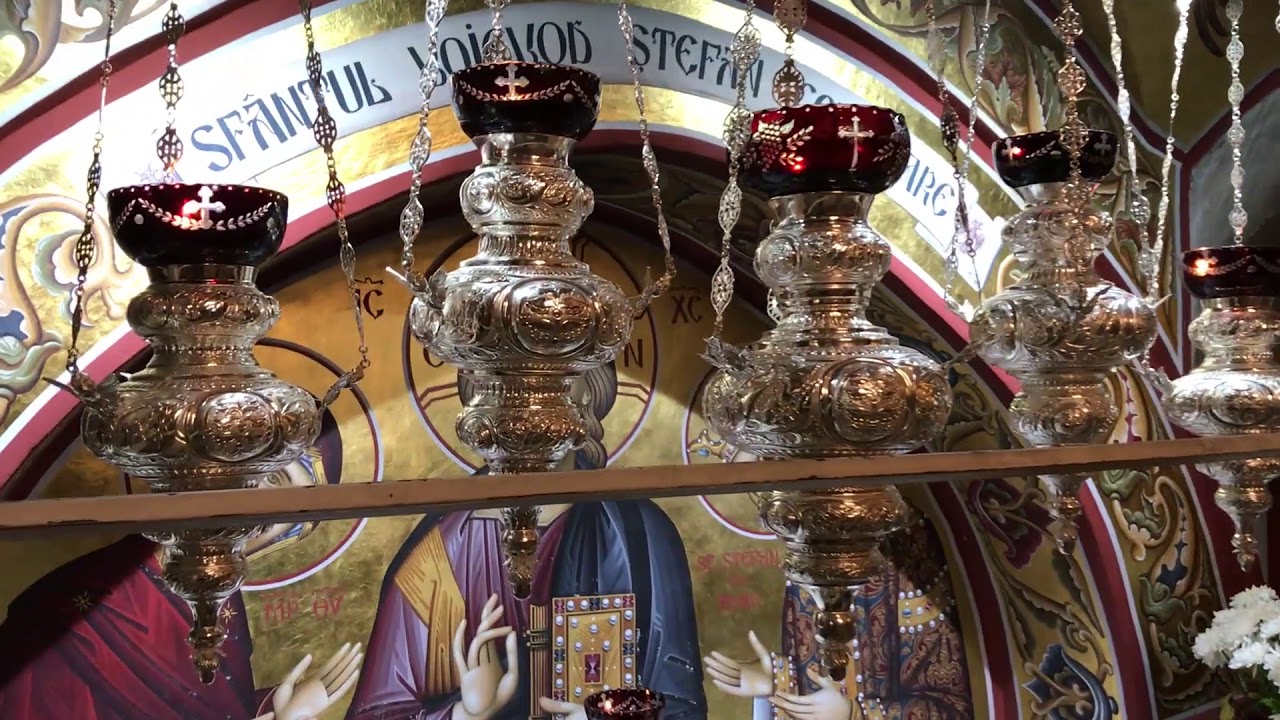 In Sapanta, I visit the "Merry Cemetery", aptly named for its colorful tombstones with funny and humorous paintings that describe the life of the deceased. It's an explosion of colors, it doesn't look like a cemetery at all. Well done, an environment that usually transmits sadness for one's loss, has been downplayed with humor transmitting peacefulness. The Monastery of Peri, with the highest (78 meters) wooden church of Europe, is impressive.
The road is still interesting, with nice green valleys and hills that rise to about 600 m from sea level, and lush woods. I'm in the Northern Carpathian Mountains, an area better known as Transylvania.
Even the Monastery of Barsana is very nice and big, which is a characteristic of all orthodox monastery churches; inside, these churches are full of paintings and icons depicting dark skinned Madonnas with dark skinned Infant Jesuses. The people visiting stop in front of these images making the sign of the Cross various times: so many countries, so many customs. The rooms, very small, are full of ambiance and one really feels immersed in the sacred atmosphere.
The village of Breb is described as a place where time stopped, and this is how it appears, with a single dead-end narrow road; I must backtrack to exit the village. The women of this little town wear peculiar traditional dresses (I will find some of them again during my trip) with a head scarf that, as one gets older, changes from a light bright color to a dark one, a skirt below the knee and shoes that sometimes look like slippers. Men wear shirt, dress pants and a little hat (like that of Bolivian women) made of straw and with different appearances.
I stop at the little monastery of Prislop, a nice white church where I meet a German biker, and then proceed to another monastery along a road that parallels the Ukraine border, which is only 4 km away. I cover the last 40 km on a dirt road through thick, beautiful and suggestive woods. I stop to enjoy my cigar surrounded by silence (no traffic here). The Monastery of Putna is wonderful and well kept (they all are). As always, there is a big entrance with an enormous wooden gate and high walls all around it, this because back when they were built these monasteries also functioned as fortresses. The priests and monks may appear eerie for the characteristic hat (low and round, like an upside-down pot) and black vests they wear, but this is what distinguishes them.
The following day I visit three more monasteries: Humorului, Voronet and Neamt. All of them are well kept, as expected, with the same characteristic small church full of religious symbols and objects. In the monastery of Neamt, people bow under the icon of the Virgin Mary with Infant Jesus and on all fours, they pass through a small opening while making many signs of the Cross. Unfortunately, I wasn't able to understand why, even if it may be guessed.
The roads haven't always been good: holes and pebbles are ever-present, and traffic is unruly even because some people go into incoming traffic to avoid it, without thinking twice, and sometimes I have been forced off the road to avoid an accident. Where are all the cops? Not many on the streets!
The next stretch takes me to Sibiu. For the first part the road is nice, with curves that climb up to the 1287 m of the Bucin pass; some fun at last. I ride through Sighisoara and other cute towns. Along the way I notice some stalls that sell a bit of everything, from souvenirs to copies of animals, pots and different objects made of copper, iron, aluminum or wood. The merchants are gypsies, an ethnic group widely present in this area: their women color their hair in shades that go from yellow to red and wear lively colored skirts. There are also many kids, while the men wear a black hat with a round brim around their head. Before reaching Sibiu, I go visit the church-fortress of Biertan, as suggested by my friend Michele. Beautiful and impressive, Christian-Evangelical not Orthodox, one expects Templar knights to enter at any moment, as in The Da Vinci Code.
In the afternoon I reach Sibiu, where I will be Domenico's guest for three days, he's Stefania Gnoato's brother (who I met while preparing for my trip to South America). The two itineraries I scheduled for the two following days, are two "Biker's" roads, two roads opposite to one another in their development.
The first, the Transalpina road, about 135 km long, divides into three sections. The first runs through fir woods to the Oasa manmade lake, with enjoyable bends. Then it starts to climb, the vegetation disappears, the road becomes more interesting for the snaking hairpin turns. The third section climbs to the Urdele pass at a height of 2145 m, a temperature of 18°, low clouds and many bikers from everywhere (France, Serbia, Hungary, Ireland, Germany …). All in all, an entertaining road with a good blacktop. I climb down and return to Sibiu using state highway no. 7 (somewhat of an obround itinerary). It's an important route, Domenico warned me, many trucks, not bad landscape-wise but a terrible thoroughfare.
The second itinerary, the Transfagarasan road, is indicated by everybody as a legendary route. About 75 km long, made under Ceausescu to move military troups (1970/74), it hasn't been maintained as its fame would suggest. The pavement is terrible, it has rained the night before and dirt and tree branches are scattered all over the road making the way more difficult. Besides the first stretch which develops nicely and is a pleasant view from the top, there is not much to this road other than the dam that creates a considerable artificial lake. The road climbs to almost 2000 m, the temperature is 12/16°. It starts to rain and on my way back to Sibiu I pass through Bran, which is linked to the Dracula Castle, but I am disappointed: a lot of stalls surround the stronghold, as well as people and buses. It's not worth it.
The day after I leave early for Bucharest.
During the way, I visit the Peles Castle in Sinaia. It's more a fortified palace than a castle, but the building that houses the museum is remarkable. The level road turns into a highway after Ploiesti.
Bucharest: a big city, wide arteries, with the Dambovita river flowing through it, it reminds me of Budapest, with the enormous structure of the Parliament (it's one of the city's symbols, made by Ceausescu after razing neighborhoods and villages in the area) and the Unirii square.
There is a lot of traffic, as in any capital, with interesting historic buildings, such as the orthodox church of Stavrooleos made in 1724. The Arcul de Triumf, an arc similar to the one in Paris but smaller, and then back to the Parliament palace, imposing, like the image of power it wanted to transmit during the Iron Curtain period.
The following days, before reaching the border with Bulgaria, on the Black Sea, I visit the Danube river delta. I ride through Braila, on the Moldavian/Ukrainian border, which is delimited by the last section of the Danube. I get on a small and characteristic ferryboat. I am surprised: in only 15 minutes it crosses the river and I disembark in Tulcea.
The day after I get on a small motorboat to tour the Danube river up close. I had this idea for years, to finish something I started back in 2005, when I visited the source of the Danube in Donaueschingen in the south-west of Germany, in the Black Forest. We leave the main course, wide and navigable, to plunge into the canals that compose the Delta. While we are cruising, we see families fishing and having fun on the shore, wooden houses that fishermen in the canals (which can be 1 m deep) use, and creels like the ones we use in the sea in Italy for shellfish. It is wonderful to be surrounded by the luxurious vegetation, composed of woods and unexpected ponds where there are thousands of different birds. I'm impressed by pelicans, big, with a strange beak and their pouch. Some of the canals are narrow with a lot of trees, it's like sailing on a tropical river, only there are no crocodiles! The tour lasts the whole day, nature is the true queen and I hope we won't affect it with our pollution.
I leave Tulcea and reach Mangalia, near the border with Bulgaria, late in the afternoon. The route I take is not a main road and runs along the Danube delta up to Murighiol, passing from Babagad. The landscape is beautiful, and I cross nice towns with people in Sunday dresses and markets that sell everything. Back on the main road, I head towards Constanța, an important city on the Black Sea. The beaches start in Novodari; traffic becomes hectic for the crowd heading for the beach. I'm surprised: a gondola cableway moves people along the coast (La Paz in Bolivia is no longer the only one with this means!). I enter Constanța and reach the sea. It is very hot, and I look at the coastline admiring an old Casino that dominates the view. The Black Sea, I look at it, I gaze at the horizon thinking that somewhere to my left lay Odessa and the peninsula of Crimea … who knows, maybe … one day.
I continue my journey and after stopping in Mangalia I cross the border leaving Romania for Bulgaria. After no less than 14 days, I must say that Romania is worth a thorough visit. It has been a nice surprise. I experienced no problems with the places and the locals who, instead, are very kind and helpful since most of them speak Italian having worked in our Country one time or another.
End of first part
Text and photos: Alberto Marconcini