Enduro Wed 15 August 2018
DESTINATION: ADRIATIC SEA
ONE DAY OF HARD ENDUAL
With the long weekend of May 1st in mind, I check my list of contacts looking for friends who, thanks to the slacker leash given by wives and employers, are willing to seize the opportunity of following one of the Tyrrhenian-Adriatic tracks that starts in Grosseto and finishes at Gabicce Mare. Unfortunately, we all have other commitments too, which force us to change our plans opting for a one-day tour leaving out the Tyrrhenian, in other words a Tyrrhenian-Adriatic without Tyrrhenian.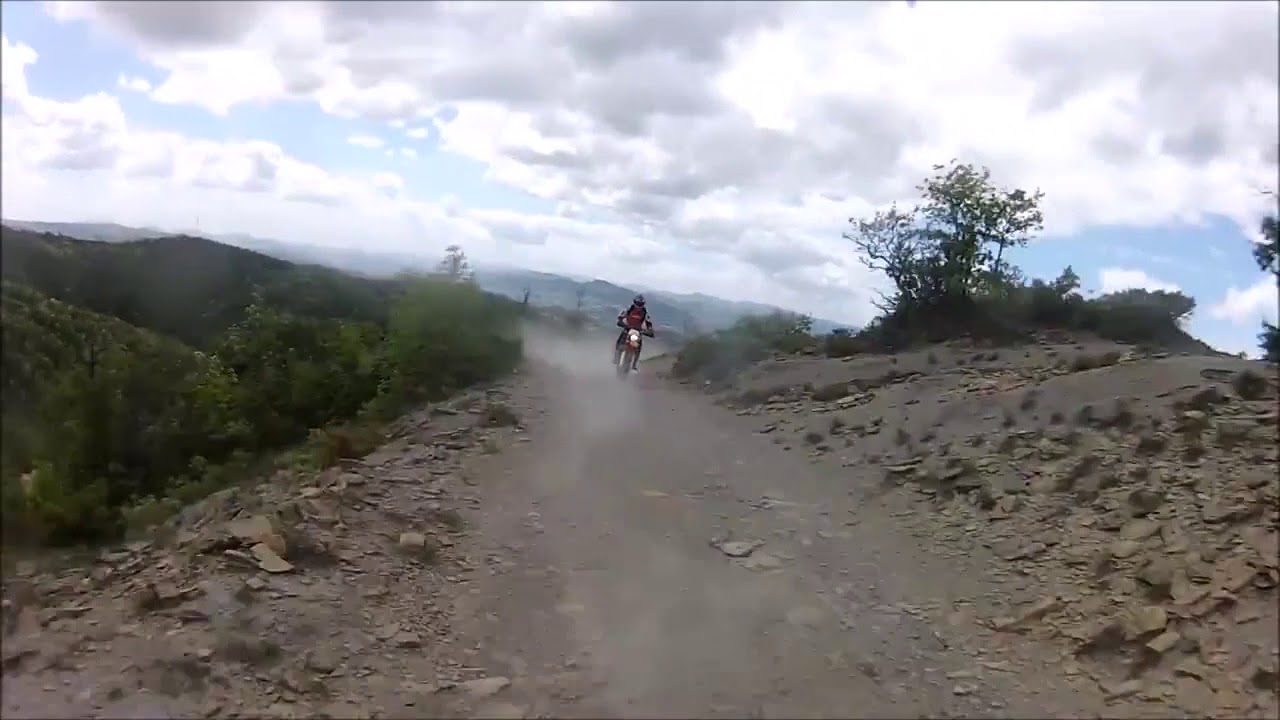 So here I am the morning of April 30th enduring the transfer to Castiglion Fiorentino on paved roads, aching all over thanks to my wonderful idea of circumnavigating the lake of Bolsena, 54 km by foot the day before. Incredibly, in the morning my muscles don't hurt, but I can't move my left ankle; it doesn't matter, I'll upshift using my heel. We decide to meet in the town of the late Fabrizio Meoni, to start our tour. We leave from the sculpted monument that shows him on his motorcycle ready to jump; we like to think we are travelling on roads that witnessed him riding his two-wheeler and that in some way he is with us now. When we meet I'm pumped despite my ankle: 3 bikes with 21" rims, knobby tires and appropriately setup, no hard bags and riders ready to lay their bike without worries off-road …. Yes, we are looking at two entertaining hard endual days.
As soon as we leave town we start climbing and find ourselves on a tough trail, on Tuscan's typical stratified flaked sandstone, that those who usually ride in this area know well. It could be worse … it's dry and the riders have it, they know where to place the wheels and this section, that may have required hours and a bucket of tears to newbies, goes by fast and with a lot of fun. We proceed on these roads in the Arezzian hills headed for San Sepolcro smiling under our helmets, following a track which is banal only on its paved sections, the difficulties lessening only once we reach the floor of the Tiber valley.
We stop in Selci-Lama, where we meet up with the last component of the group who is from Imola and is followed by his wife Cinzia in their RV, a saint of a woman who not only puts up with her husband's passion but greets us with a homemade pie and a serving of pasta with tomato sauce. Sated and satisfied we are back following our track in a big way! We climb high alternating challenging paths, easier ones and ditches. A section with loose rocks puts our machines as well as our wrists to the test, a few falls happen but with a bit of help we overcome everything.
Out knobs eat kilometers until we reach Belforte all'Isauro, where a flat brings about an unscheduled stop. With a tire iron in the hand and a mouth full of insults, we change the inner tube, a hell of a job with the hard Mitas, but, as Vale says, "what two-day is it without a flat!" In forty minutes we are done, not a Dakarian time but we are not racing!
We are off again for the last leg that gives us the final blow, we start feeling the kilometers covered when we pass through the woods on clayey terrain … eh, eh, eh …
Puddles of clay that suck up your feet and won't let go, imagine our 200 kg beasts in this environment, a couple of kilometers and we are beat. In Tavullia we are back on paved roads, which we hadn't touched since Selci, and we stay on them until we reach Castelmezzo. Here, on the Adriatic, Vale rejoins his wife Cinzia who is patiently waiting for him in the RV with a big smile full of love. The remaining three of us move to the B&B where the owner tries to put us at easy with a "oh, no worries, it's ok" when she sees us covered in mud, but her eyes speak for her.
We are at dinner, tomorrow it's going to rain, and a paved return awaits me, but it doesn't matter: we are here enjoying a wonderful meal and view overlooking the sea, amongst friends after a cross-trip I had been dreaming for ages. Tomorrow it will rain ruining our return, but the smile I'm going to take home with me certainly won't be washed away by it.
Text & Photo: Dario Lupini