Enduro Mon 18 September 2017
Off-road tour of the 4 regions and discovery of Valtiberina in Tuscany
I must confess: I love motorbikes! What's strange is that I do not know where this love comes from. I remember that ever since I was little I would hole up in a corner of my home to look at magazines about motorcycles and their champions. None of my closest relatives or friends had a bike for which, in those times, you would only need to wear a helmet and little else to ride. Maybe it's because watching these strange people tame these machines made me dream about a thousand adventures: maybe one day I would be the one taming and riding one of these monsters!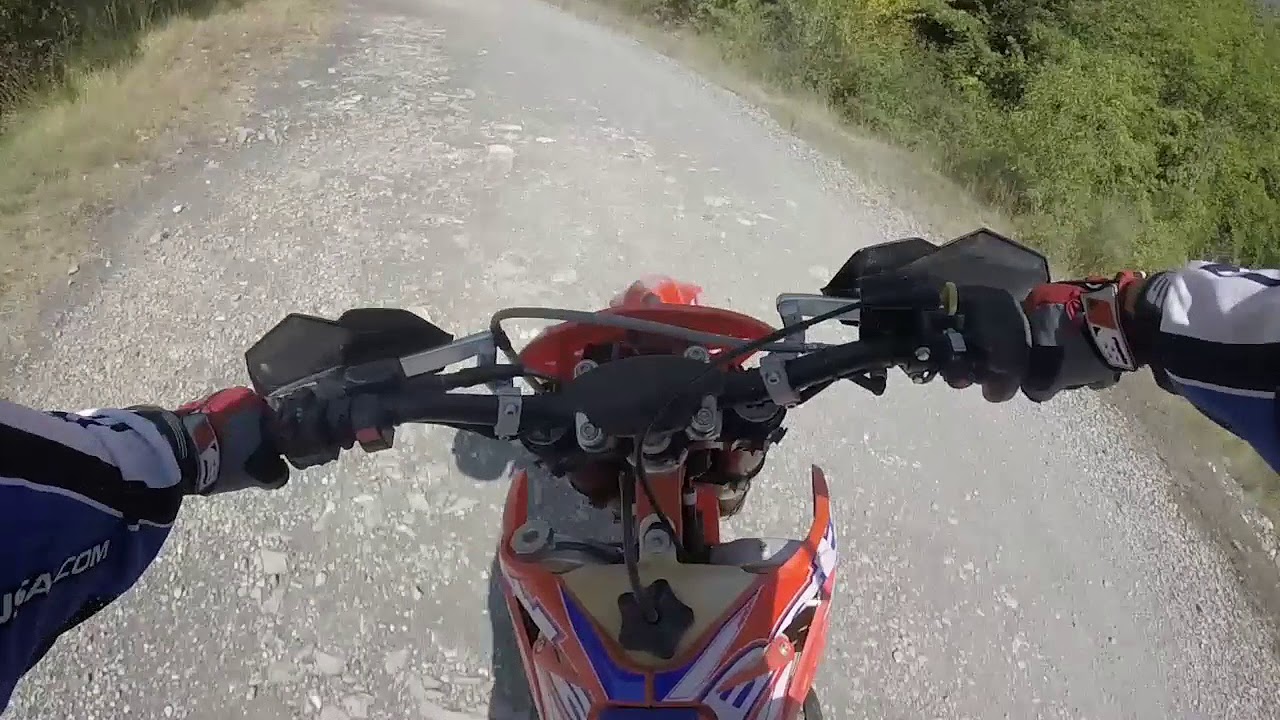 At this point, I must confess something else: I love dirt roads! And, as before, I do not know wherethis passion comes from. I do remember that my first bicycle rides where along rural pathways and one of the first things I did when I finally obtained my first two-wheeled monster, a fantastic black and gold Fifty, was to ride it through fields and woods. Nobody told me to do it and neither did I follow somebody through those rough roads, but I got a thrill out of cutting through these arduous pathways and plunging into the wilderness.
Maybe you are now thinking that these are the premises for a story about a kid who lovedmotorbikes and unpaved roads, who turned out to be a great off-road champion. Unfortunately, this is not the case. My passion for bikes and dirt roads never ended but I am not a champion, I am only a guy who still loves to discover new places, near or faraway, to blend in with the surrounding landscape, to flow with the wind on the machines I so admired when I was a kid. Even today any excuse will do to ride on unpaved roads as I once did with my mythical Fifty. It is said that appetite comes with off-roading, or something like this, but I cannot deny that when I rode on paved roads I felt like putting myself out there with more suitable means and places to satisfy this appetite.
When the opportunity of roaming the Apennines between Tuscany and Emilia-Romagna (two Italian regions) with an expert guide as Pietro, who organizes off-road tours, presented itself, I couldn't contain my enthusiasm; just as I could not hold back the child in me when I saw the Beta 250 that I would ride through the green slopes that surrounded us. While I was putting on of all the clothing and protections needed for enduro riding, I was reminded of the investiture of a knight preparing for battle. The village of Anghiari enclosed by ancient walls typical of medieval townaccentuated this feeling. I felt like a real chieftain who, astride his warhorse, said farewell to friends and mate and left for battle, both for himself and for the territory, to conquer the coveted summit meter by meter. To hear the metallic mumble of the single-cylinder engine of my warhorse took me back to when I was a kid recklessly shooting along green field pathways. However, this time, the route ahead of me was much tougher with steep, stony, uphill slopes. Only the wise advice of master Pietro and the exuberant power of the Italian bike enabled me, with some measure of pride,to ride along these tracks. Occasionally I felt fatigued: to ride the bike standing puts one's arms to work while trying to restrain the front end that fights with rocks that cause tank slappers. You must have some muscle to fight these forces and, since this is not my case, I tired very soon. But it was nice to alternate challenging tracks with easier ones where to lift dust clouds from the ground which was very dry due to lack of rain in this scorching summer. Here I was able to savor the beauty and dive into the landscape surrounding us: extensive, wild and uncontaminated woodlands, interspersed by pastures where herds of "chianina" breed cows quietly grazed, undisturbed by our passing. I was fascinated by the small villages with a few stone houses we would come across; visiting them by foot or slowly by motorbike made me plunge in a sleepy world where time hadstopped a few hundred years ago. It was nice to greet residents who warmly greeted you back just as if I were a real knight who respectfully crossed their village. In these occasions I would think of Cri, my sweethart, who also had a full agenda through historical villages in this part of the country: was she experiencing the same feelings as me? I was sure she was because this is a magic land. I was very tired after hours of off-road but, nonetheless, I would have happily gone on to see unique, breathtaking panoramas; however, a few aches due to two slips convinced my tutor that it was time to quit. When I got off the Beta I surely was not the strong and proud knight of that morning; I could not control my muscles which were sore with lactic acid, but an emotion I didn't feel for years was alive in me.
I felt like the teenager who proudly rested his Fifty on the kickstand, euphoric after a fabulous adventure. I was tired but happy and proud of myself and therefore I can only thank Pietro for patiently guiding me trying to improve my technique, the Beta which rose to the occasion even when horizontal, and the Valtiberina in Tuscany, a land able to enchant and infect you with the Tuscany Blues that make you promise to be back asap!
Text: Max & Cri "the world from behind a visor"