Test and previews Tue 20 February 2018
A "FRECCIA" ON THE "LEONCINO"
Yes, I'm a "FRECCIA"]* - from the name of my motorbike club "Le Frecce del Borgo" (The arrows of the Village) - as well as a newbie biker and I'm honored to try out this new motorcycle, the **LEONCINO BENELLI.
I meet with the others on the road of the Viamaggio pass - in the Apennines straddling Tuscany and Emilia-Romagna - that goes from San Sepolcro, my town, to the city of Rimini.
The day is clear, cool but sunny, a perfect day for bike riding.
At first glance the motorcycle looks small and compact, cute with a nice, likeable design that includes a rather stubby tank, a straight "tail", round headlights and the Benelli engine in plain view. As I get on the motorcycle, I think that the riding position is rather low, me being 170 cm high, but, to my surprise, this same position makes me feel safe and completely in control of the machine. When I turn the ignition switch the digital instruments are simple and essential, even if not clearly visible under the sun. As the machine comes to life I grasp the meaning of its name, LEONCINO, when I give it a little gas its purring, slightly metallic, rumble reminds me of a lion cub.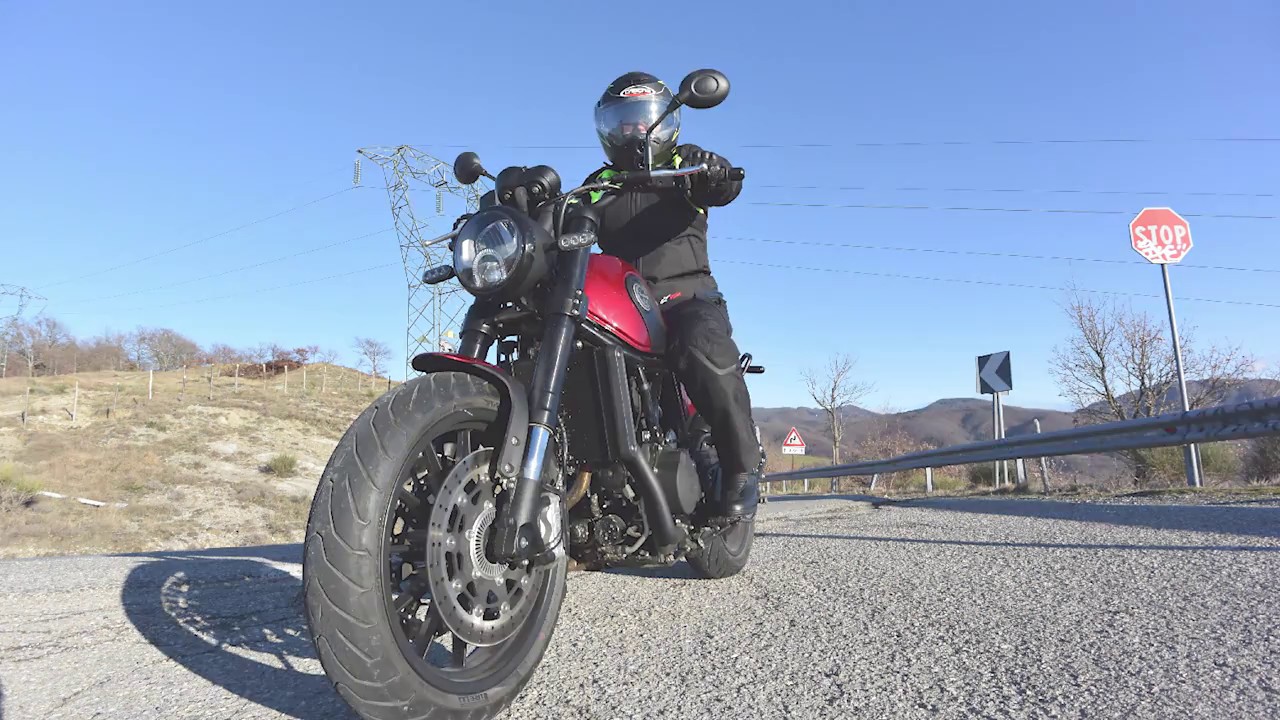 I shift into first gear and off I go.
The clutch lever is a bit stiff but paired with the accurate transmission it's perfect.
It is easy to ride, and, to my surprise, it has a great pickup albeit the small 500 cc engine that delivers 48 hp. As the curves become more challenging, it feels very light and manageable. Taking curves is easy and safe since it doesn't loose grip even with a newbie like me driving it.
As I go faster at high rpm LEONCINO shows a few limits, I can feel little vibrations from the footrests even if I'm not speeding that fast.
Braking is excellent, firm and safe, the two big disks with ABS and the front forks work optimally. On rugged road the suspensions do a good job damping bumps.
At this point I put aside speed and curves.
Since I have been given the possibility of trying this bike for the whole day, I decide to go to San Marino to test the LEONCINO behavior in city traffic. Even in this environment I'm comfortable, the small size of the bike allows me to nimbly move amidst traffic.
I climb and descend the roads of San Marino, with traffic lights and roundabouts, fully in control of my bike; the transmission works extremely well even with the continuous stop and go. When I stop I notice that people turn to look at me. Evidently, the LEONCINO rumble and captivating design attract them. I head towards home, I'm having fun and even if I'm a bit tired I think that I must take advantage of this opportunity since it is not given every day, so I decide to add some kilometers to my trip.
So, from the top of the Viamaggio Pass I go to Pieve Santo Stefano, from there I flank the Montedoglio reservoir and reach San Sepolcro passing through Anghiari.
At the end of the test I'm satisfied with the performance and agility of this little-big motorcycle, definitely suitable for newbies.
I thank BENELLI so much for the opportunity and for the strong emotions, and I hope I will be given more occasions like this one.
* "Freccia" means arrow
** "Leoncino" means lion cub

Text and tester: Elena Donati
Photos: Luca Pucci