Test and previews Wed 18 March 2020
BETA RR 250 Racing - Boys just wanna have fun!
ENDURO: it is the most beautiful sport in the world. No doubt about it!
I often wonder why I have this belief and what makes this sport one of the most engaging and appreciated by most riders, today's as well as yesterday's, whether they are veterans or newbies of the two wheels; the reasons are at least as many as there are endurists, to whom goes the merit of making this sport so special and fun, with their habits, quirks and personal characteristics, so different from one another yet so similar.
We are all united by a strong and deep passion for motorcycles, to be rode strictly off-road.
So many types of enduro riders, each with their own tastes and preferences, and it is therefore an arduous task for manufacturers to create motorcycles that meet the needs and expectations of each of them.
Considering the above, the bike I tested, the beautiful Beta RR 250 Racing, was designed and manufactured by Beta for the passionate throttle jockey, a category to which I fully belong and with moderate pride.
"Throttle jockeys" are all those who, as they get on the motorbike, constantly try to raise their performance even if they are not really true pro-riders (and never will be!). The important thing is to rip it up, always, fully taking advantage of the technical characteristics of the bike and perhaps trying to take it to its limit, to enjoy a total riding experience with no holds barred.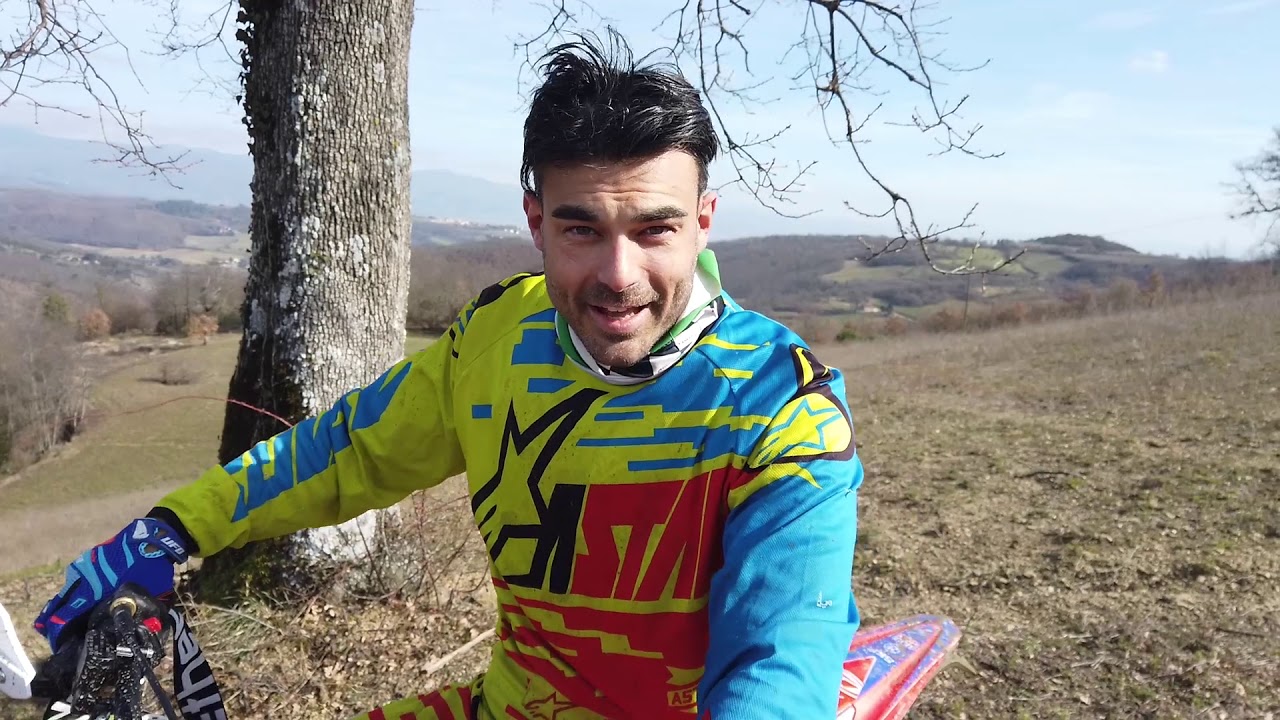 Beautiful to look at and fun to ride, even without "stopwatch stress".
Year after year Beta continues to invest in its enduro range, tangibly improving the quality of its bikes. Just looking at them, you notice the technical and stylistic improvements, for example by touching the switches on the handlebar and the other fairings, solid, strong and red like the frame in plain view. The black swingarm and the saddle covered with two-tone, rough and non-slip lining, equipped with a pocket for documents, are fantastic.
The new screen-printed graphics, the white protector and the red ergal sprocket give it a decidedly Racing look, perfectly in line with the exuberant character of this 2-stroke racing bike, which differs from the "basic" version also for the 48 mm Kayaba fork, adjustable compression and rebound.
It is a very performing fork, specific for racing, which works well in the first phase of the excursion, even at low speeds but guarantees an excellent response when the pace increases, or when landing after a jump.
Based on my riding style, I would have liked to close the original compression setting a bit to gain stability on fast sections; it's a pity there are no gauges on the screws which forces me to use the screwdriver to make the adjustments, the notorious "clicks".
The horsepower of the 250 cc engine guarantees a good downward push, at mid-throttle it feels like it wants to catch some breath on middle revs and then it strongly pushes upwards, up to over rev, with the front wheel that feels like it wants to take off.
This Beta is an exuberant bike that will entertain all those riders who are not afraid of riding hard; it guarantees high level performance, reliability and precision in riding with the typical 2-stroke maneuverability.
It has real "bad boy" look, a bad boy who always and only thinks about having fun, possibly on a nice dirt track.
/uploads/editor/files/TECH_DATA_2020__EN_RR_250_RACING_2T-1.pdf
Text and tester: Riccardo Rosi
Photo: MBfotopress