Test and previews Thu 31 May 2018
Beta RR125 cc 2018 The princess of Junior enduros
In the motorcycle world I go by the name "Sgassino" (nickname that comes from "rev up") because when I was as young as 14 I started racing in regional and Italian national championships, class 125 cc, therefore I know this displacement very well and have a certain amount of experience in handling it!
To obtain competitive times with a 125cc, you must always keep the throttle wide open, and I love it, so much so that this is the way I always ride, even on narrow paths where I prefer the limiter over technique. This way of carrying a motorcycle has become a distinctive trait that characterizes who rides like me, i.e. the "Sgassino" style!
Maybe this is one of the reasons for which I had the honor of testing the new 2-stroke Beta RR 125 2018, the new entry of the Tuscan brand!
A few minutes on it and I'm immediately at ease, it feels like a toy: weightless, agile and powerful! I start my test on a motocross track, switching to a faster track and finishing on a great hard enduro section!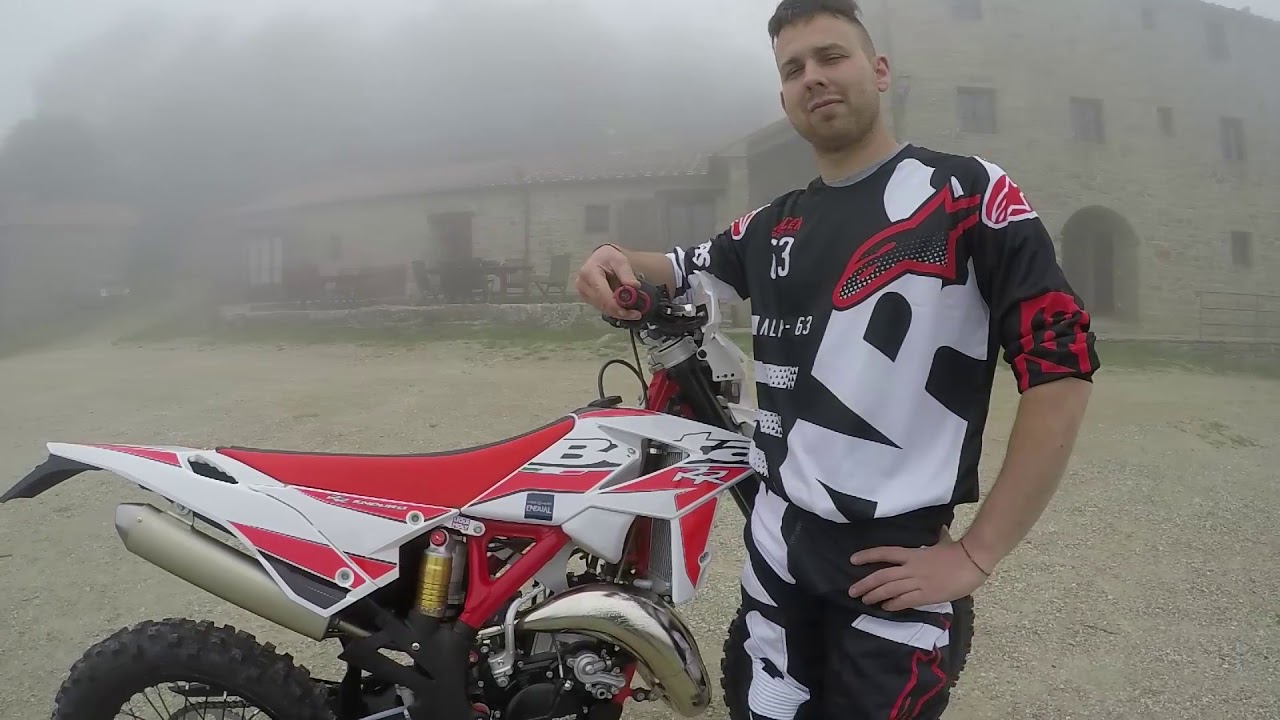 The engine has an excellent pickup at low and medium rpms and has good output in higher gears even if it tends to pull back when using medium gears, requiring upshifting! The clutch is often used on dirt path but remains soft and accurate throughout. On the motocross track, its great maneuverability facilitates curve entry while gear spacing and excellent traction brilliantly lead to curve exit preparing you to dive for the next bend! I didn't find big differences in mapping.
The customized setup makes the Sachs suspensions, which are the suspensions of choice for the whole range, smooth and fluid on potholes and rocks, which is good for an amateur while they should be hardened for racing and this can be done through a few simple clicks.
Despite it being a lightweight (94.5 kg curb weight) the fork is sensitive and rather stable on fast and rugged roads. What surprised me most are its agility and lightness that make riding easier, characteristics that originate from the improvements applied to its bigger sisters. The monoshock, by following the fork, gives good traction even on loose rocks and on extreme and slippery tracks. Beta made an excellent choice with the Nissin brakes which never lose efficiency: you just need to lightly touch the front one for it to brake hard while the rear doesn't lock but directly responds to pressure applied, just as I like it.
For this model, the company from Rignano sull'Arno decided not to adopt the convenient electronic oil injection system mounted on bigger bikes but chose the conventional premix method. The engine base is setup to house the starter which, for now, is not supplied as standard but is available as option.
Overall, the motorcycle demonstrated to be very reactive. With the KTM-Husqvarna duo with the same displacement, out of the picture, the primacy certainly goes to this model even if I would adjust the suspensions setting to achieve excellent setup. A teenager who wants to start racing will find a race-ready bike in this machine, while who seeks a recreational motorcycle will be fully satisfied.
Warning: it may cause addiction. Take Sgassino's word for it!
Text: Massimiliano Marsili SgassGarage
Photos: MB Fotopress