Test and previews Wed 22 January 2020
BETA RR350 4-stroke - New generation, strong emotions
Out of habit and taste in enduro I like small, handy and light motorcycles; I always look at 4-stroke 250s with a little mistrust, perhaps subconsciously, but you can be sure they will never be my first choice, the one made following heart and gut.
So on the day of the test I'm curious as always to try a different bike, but I don't have that irrepressible itch. After changing, I leave the van and I see it there resting on its kickstand: the first thought that comes to my mind is "wow, it's really lean"!
The Beta my 2020 is completely renewed, from the first screw to the last and the bike gained a lot in ergonomics and looks. No accounting for taste, but I really like the black rims, the red frame, the new fairings and the small and captivating front light.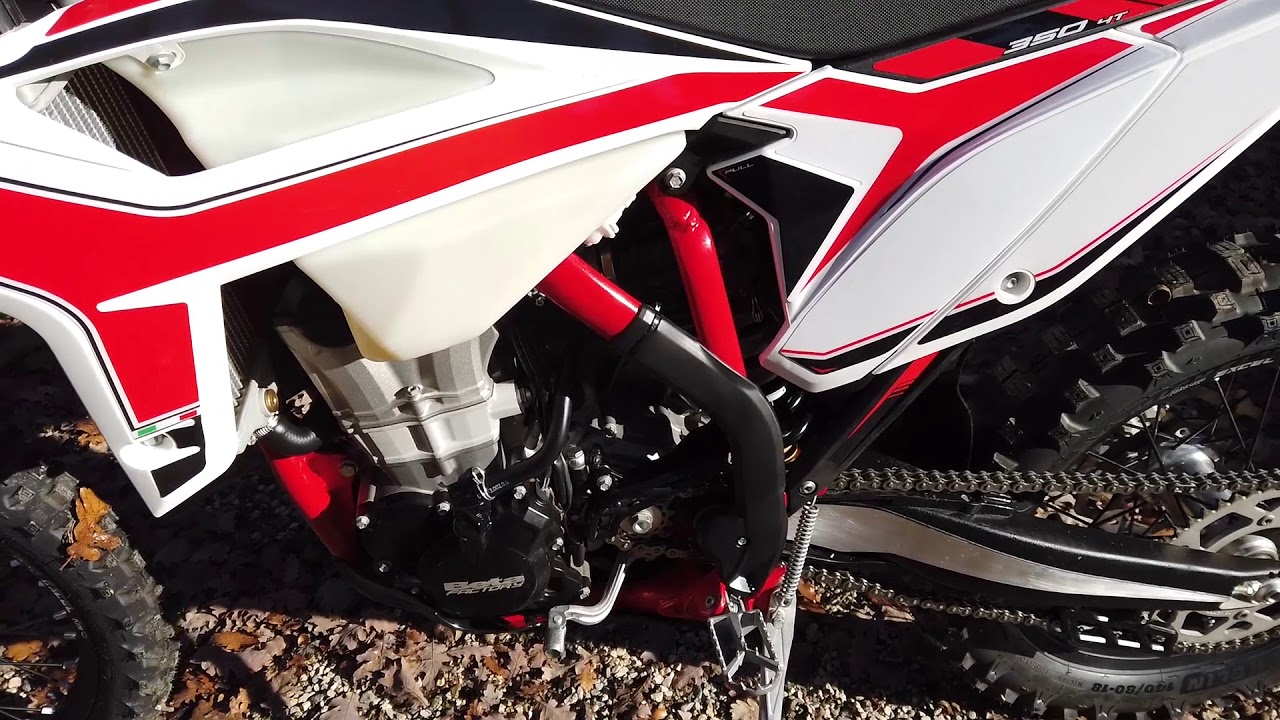 As I pull it off the kickstand, I measure it against my side before sitting on it.
The bike is not only slim, it's also compact and in a world of motorcycles for giants, it is pleasantly lower. Mind you, it is not a pit bike, we are talking a few centimeters shorter than competition which, however, combined with the tapered saddle will surely make the "shorter" riders and those who like to "get in trouble" happy.
As I shift into first gear and release the clutch heading for the woods, it's clear that the ratio is that of an enduro, with a very short first gear useful only to upshift to the second gear where everything changes thanks to the pasty engine; with an excellent horsepower you have the feeling you can do everything just engaging the second and third gear.
The engine is powerful: high revs and great push, fluid on mule-paths and full on dirt tracks, to be dosed in difficult sections on roots, rocks or tree trunks also because, compared to the latest trends, there is no traction control with all the pros and cons when riding but also of costs and complications; however you can always set the mapping to "rain" to soften the output of the engine.
As for rideability and chassis, the first thing to say is that when a bike has excellent ergonomics, like this RR350, it feels small and compact, everything is simpler and you feel you can easily handle it in any situation. So in terms of chassis, the bike is extremely easy to handle and you can practically put it wherever you want.
It has a new frame with completely revised geometries and narrower, which makes it really agile; the 48 Sachs forks, are ok, the mono helps in any situation: excellent considering it's a stock bike. Mono and fork adjustments are very sensitive therefore easily customizable; it's precisely to improve their consistency that I intervened several times however failing to completely solve the issue. Both on mule-paths and on dirt tracks, the front tended to widen the trajectory but above all I would have preferred greater support with late braking.
Although having excellent smoothness, I found the fork and mono to be too soft and certainly faster or heavier riders would suffer from this feature, while I think they are perfect for the vast majority of users.
The brakes are very responsive and modular, I like them.
In summary: a lean bike, a great engine and good manageability. The perplexities with which I started this article have been disregarded by the sensations on the saddle, or rather even before sitting on it, just by pulling it off the kickstand!
An incredible feeling from the start, these RRs underwent a great evolution.
Text and tester: Nicola Matteucci
Photos: MBfotopress