Test and previews Tue 21 May 2019
Ducati Multistrada 1260 S - "Even more stamina"
Appearance
At first you see the clean and fluid lines of a sophisticated and accurate design. The engine area shows a refined and clear layout of all the mechanical components.
The distinctive well-proportioned eagle-like beak inspires an almost threatening sense of power, even more than the previous model. The 17'' rims with slanting spokes are elegant and well proportioned. The model being tested has red surfaces that combined with the original polymeric structures, give a harmonious and high-quality look.
This 1260 S with Touring package includes as standard large side bags, central kickstand and heated hand grips. It's also equipped with sophisticated electronics such as the inertial platform (IMU) which constantly monitors the inclination of the bike, sending the data to the ABS cornering system which optimizes braking even along bends and the cornering light which illuminates the inside of the curve. The wheelie control DWC, the traction control DTC, the DSS system for controlling the semi-active suspensions, are all components designed to make riding safer and more enjoyable. Not least, the Vehicle Hold Control that helps with uphill starts. The gearbox is now equipped with Quick Shift and is thus very precise and functional improving the experience especially with sporty riding.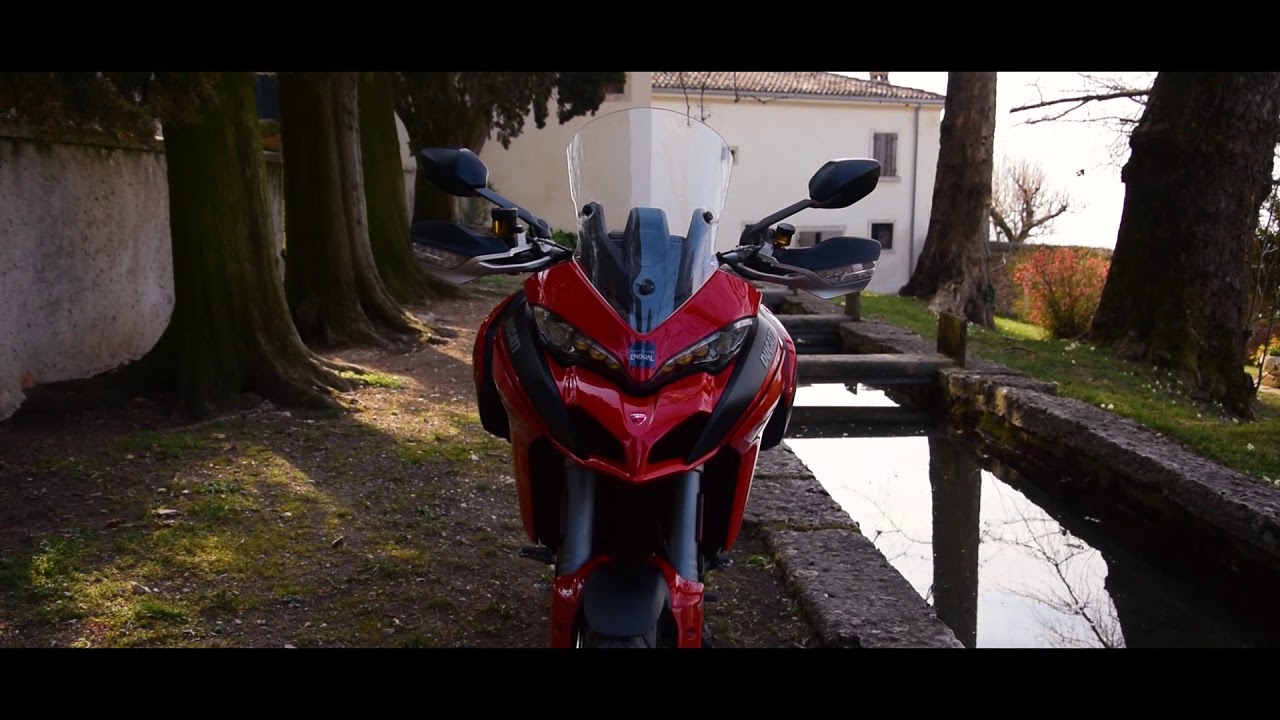 On the road
Riding this bike is simply fantastic, a chassis that is faultless, extremely maneuverable andprecise makes both insertions in and riding through curves easy.
The new 1260 cc DVT engine is smoother in delivery than the previous model, has pickup and is easy to dose, allowing the third gear to be used even at 30-40 km/h; over 5000 rpm it becomes extraordinarily powerful, and 9500 rpm can be reached in an instant.
The original 1200 engine installed since 2014, was more aggressive and nervous in delivery, creating some difficulty on switchbacks, sharp bends or with urban use; the new DVT 1260 is much smoother and easier at low rpm but still delivers a lot of power as the engine revs up.
The excellent chassis combined with 17" tires make the bike very easy to handle in any situation, be it sharp bends or long and fast curves, making it easier to stay on it for several hours.
As for the brakes, as usual the rear system is only used to correct bends, but the front is definitely performing and powerful.
One word/sentence for the bike
Considering the intrinsic and extrinsic characteristics of the Multistrada 1260 S, I would say that the popular saying: "tanta roba" (literally "lotsa stuff"), fits perfectly.
DATA SHEET:: https://www.ducati.com/it/it/moto/multistrada/multistrada-1260
Text and tester: Daniele Tezza
Photos and Videos: Nicolas Conti