Test and previews Tue 17 October 2017
"HONDA AFRICA TWIN" THE PHOENIX RISED FROM THE ASHES
Bearing the name Africa Twin imposes great responsibilities, it implies becoming the successor of a motorcycle that made history for years thanks to its reliability, elegance and mechanical accuracy,for which the Japanese are famous. Does Honda's newborn have what it takes to keep up the excellent reputation of this name? We of Discovery Endual - especially me, since I'm the proud owner of an Africa Twin RD 03 - asked ourselves this question and had the possibility of answering it thanks to Honda Italia.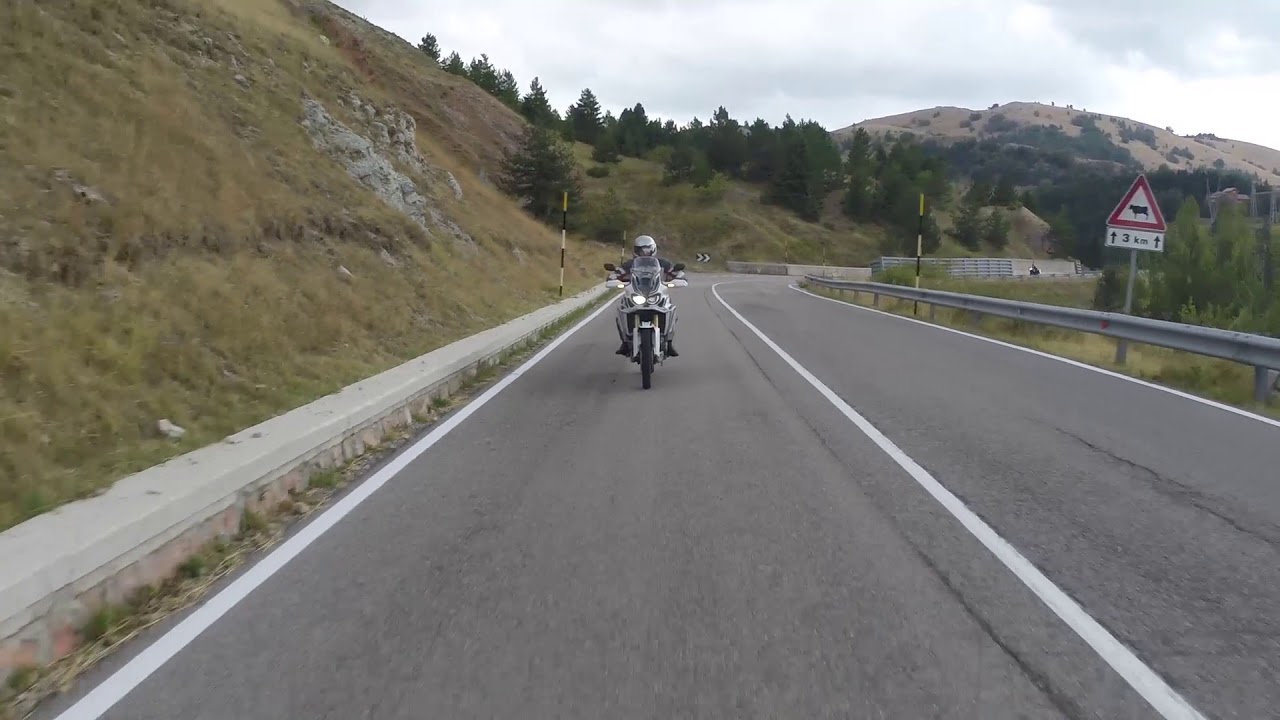 Departing from Verona, we tested the motorcycle on the Apennines between Tuscany, Emilia and Abruzzo, during a 1500 km long weekend that gave us the opportunity of figuring out this newcomer. For the occasion, we tested the model with a 6-speed manual transmission, swift and accurate, assisted by a slipper clutch; however, Honda also offers a model with sequential double clutch transmission (DCT) that makes changing gears very smooth without rpm loss. Three types of transmission: MT (Manual Transmission) where shifting occurs using triggers on the handlebar; AT (Automatic Transmission) where D (Drive) is used for cruise driving minimizing fuel consumption and S (Sport) for a more dynamic and sporty driving (subdivided in 3 steps: S1, S2, S3). Furthermore, by pressing the G button on the dashboard, the off-road mode is activated; in this case shifting is more direct, clutch slipping is reduced and consequently the bike traction on dirt increases.
The first thing we note as we hop on is the seat height which can be set at either 850 mm or 870 mm, the legs and knees comfortably envelop the slim and streamlined tank that, notwithstanding a capacity of 18.8 liters that can affect long range autonomy, can easily travel for more than 300 km.
The first test consists of driving in the city during daily rush-hour traffic: from the first kilometer I immediately think « it's like I've been riding it my whole life! ». The bike masses are exceptionally balanced, making it nimble through rush-hour traffic and along downtown narrow streets; when maneuvering or U-turning it feels like riding a 100 kg lighter enduro bike. User-friendly on-board computer and handlebar commands are so easy they are no distraction while driving.
Being a long-distance explorer, we test it along the highway from Verona to Florence and this givesus an idea of its behavior in this environment. No vibration is felt from the engine at cruise speed and even if the muffler sings beautifully (it's a Euro 4) it is surprisingly quiet from the seat, which is especially appreciated if one drives for over 200 km without stopping! The front windshield sufficiently deflects the wind even for taller riders – I'm 1.8 m high; the only drawback is that it is so slim that there is a lot of air coming from the sides and hitting the shoulders of the rider,however, this doesn't affect the bike but could be a bit annoying for the rider.
When we hit Florence, we exit the highway and finally get to drive along the winding roads of the Chianti area until we reach the Gran Sasso mountain. The distinct trait of the 95CV 998cc front parallel twin engine of this Africa Twin, is the linear power and torque which has two different behaviors. The first when riding below 4000 rpm: riding is smooth but acceleration isn't fierce so much so that it is better to downshift when passing other vehicles. In any case, on hairpin turns even with higher gears, the engine will have no problem in resuming rpm without chugging. But the fun part comes over 4000 rpm! The bike is peppy and nippy without extending one's arms or creating difficulties; combined with its slim and well-balanced chassis, direction changes and tight curves are easily managed. Nissin front and rear brakes ensure excellent braking controlled by the ABS (put in as standard). However, as everybody knows, power is nothing without control so this bike offers the HSTC (Honda Selectable Torque Control), that can also be turned off, with three levels of control to restrict its intervention when the driving wheel slips.
/uploads/editor/files/HONDA_AFRICA_TWIN_LA_FENICE_RISORTA_scheda_tecnica_eng.jpg
Following tradition, the suspensions are all Showa: 45mm inverted fork, completely adjustable, in the front; Pro-Link single shock, also with compression and rebound adjusting in addition to the hydraulic preload, in the rear. With all this the Africa Twin is excellent on dirt roads and comfortable on paved roads, absorbing impacts without arm fatigue.
The weekend ends on Sunday evening offering a last feature of this CRF1000L Africa Twin: the dual LED headlights that well illuminate the way while giving an aggressive appearance to the bikealready slick body.
Returning to the question posed at the beginning of this article: does this motorbike deserve to be named Africa Twin? No doubt, the answer is Yes! We already know that Honda's machines are high quality and with this last model the quality rose even higher. It was worth it to wait ten years for its return.
Pricing: from 13.200 euro.
Tester and text: Marco Dugato
Jacket and pants: OJ - Model DESERT EXTREME - Color ICE-RED - www.ojworld.it