Test and previews Tue 17 December 2019
HONDA CB500X: "Easy" twin-cylinder
When looking for an everyday motorbike, practicality and comfort must rule. Whether in traffic or on country roads, you need to feel free to move. An example is the Honda CB500X.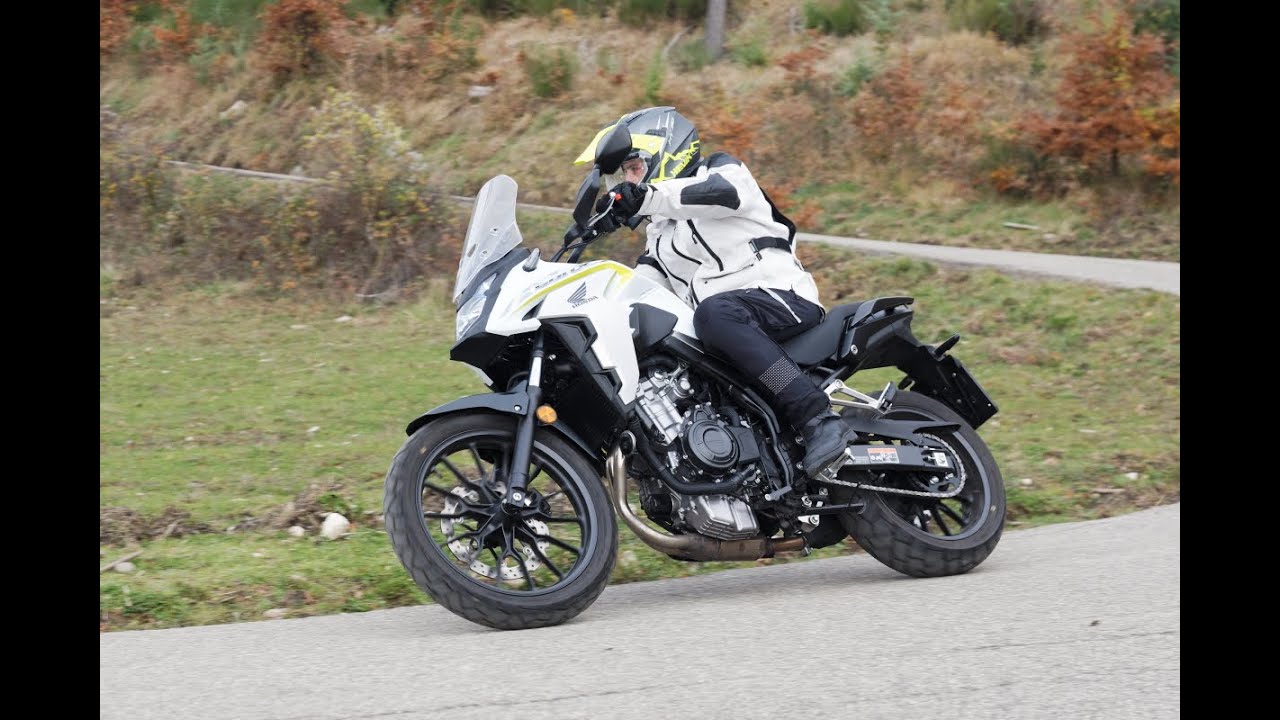 And here it is, just pulled out of the van for our test, the CB500X looks pretty proudful, with the engine and tank filling its belly. Circling it its profile appears slenderer, with its not too evident beak, and the gray graphics, on the ice-white fairing make it almost elegant. Grips, saddle and dashboard are basic. The 19" front and 17" rear multi-spoke alloy rims slim it down quite a bit and the brakes seem precise for the task they have to perform.
Let's ride it now! It is perfect for my height (1.75 m) even if I'm on my toes, thanks to the wide saddle and the rigid suspension that eliminates most oscillation. I adjust the mirrors and take a look at what the dashboard offers. A clear digital display informs you of everything you need: current gear circled by the tachometer, engine temperature and fuel level, as well as the clock. The other lights are positioned on the black edge, as those of the headlights and ABS.

I'm off in a moment and undoubtedly the first thing that leaves me speechless is the clutch: soft! So soft that that I only need my index to operate it! After a few kilometers, however, I realize that the riding position is not all that easy to find; the "fault" is attributable to the overly advanced footrests, which make the saddle-footrests-handlebar triangulation somewhat uncomfortable for my height; the natural position assumed leaves the tip of the foot too high and engaging the gears is not physiological at all. Same for the handlebar; its inclination requires keeping the wrists too angled and closed inwards or approaching the tank with the chest; probably a person with shoulders broader than mine would be more at ease.
In any case, after about fifteen kilometers I start to get used to it, and riding confidence comes more quickly; its 197 Kg are easy to handle both when paddling and on bends. The twin-cylinder with only 48hp climbs very well and goes hand in hand with the gearbox with soft but precise couplings and with a very fluid output whatever the rpm, that never loses strength on restarts, which makes it pleasant and perfectly manageable in this type of roads. In city traffic perhaps a little more brio would have been appreciated, especially with short gears, when you take off at traffic lights.
The chassis is well matched to the size of the CB500X. The rigid enough suspensions and the solid frame never stress the back; it's always precise when entering and exiting curves transmitting a feeling of safety, almost as much as the brakes, which even if not exaggerated in size, do their job very well, but the lack of a double disc in the front is felt.
Off-Road, on the dirt road, it's (almost) like driving on blacktop. Of course, one cannot expect excellence, but a considerable help comes from the 19" front rim which really limits harshness, without affecting maneuverability. However, on mule tracks it's a different story. Here the "small" CB500X suffers a lot, along with its plastic bodywork, which creaks loudly on large holes and rocks.
All in all this bike is excellent for general use on all non-demanding routes, it's relaxing and after a short time for "rider settling" you also appreciate it for its very low consumption and noise not at all intrusive but also not too quiet when accelerating. The deficiencies listed are not so marked after all, perhaps even resolvable through settings (such as the gear lever).
The overall opinion on the bike is more than positive, after a day spent on different types of terrain. This motorcycle is more prone to practicality, daily use and Sunday outings than for the long journey. Simple and pleasant.
In three words: An Urban Crossover
Strong points:
• Clutch
• Shift
• Fluidity
Improvable:
• Handlebar inclination
• Gear lever position
• Brakes
Text and tester: Giacomo Gori
Phots: MBfotopress
Video footage: Merlin Studio's GVM