Test and previews Tue 06 August 2019
MOTO GUZZI V85TT - Classic Travel Enduro
The connoisseurs of the manufacturer from Mandello sul Lario have been waiting for years for a bike like this Moto Guzzi V85TT, suitable for any type of trip, an adventure bike that resorts to the style of the legendary Dakarian motorcycles of the 80s and 90s.
My first approach is very cautious and at times embarrassing since it's a bike that weighs over 200 kg.; it's actually easy to handle since the height of the saddle allows you to comfortably reach the ground with your feet.

The top-class debutant has been equipped with an 853 displacement engine, a 90° transversal twin that can deliver up to 80 hp, air-cooled, completely redesigned, made with valuable components usually destined to races.
This satisfies those who want to try their hand at riding in the most varied situations, both in terms of absolute performance and extraordinary push at low rpm, the distinctive factor par excellence of the Guzzi engines.
A special feature worthy of note is the unmistakable shaft drive transmission, especially for off-road riding besides being better protected, requiring minimal maintenance compared to the conventional chain transmission.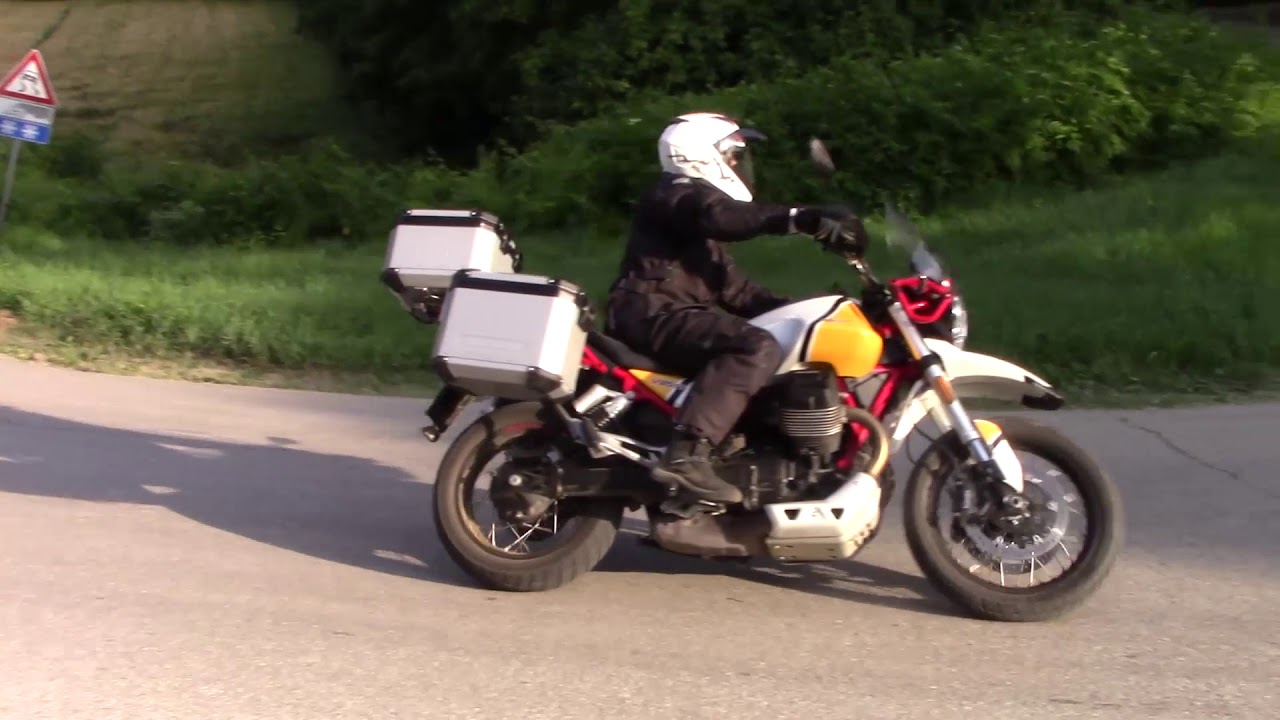 Even the chassis has been completely redesigned for a more suitable use especially off-road. Having abandoned the project of the double cradle used in road models, Guzzi moved to a supporting frame built with steel tubes but decidedly low weight, obtaining strength and maneuverability.
The superstructures have no fairings, but the windshield offers excellent shelter from the wind at any speed; completing the series of "adventurer" style accessories, the well-wrapped hand guards, the 170 mm travel suspension, spoked wheels - 19 " in the front and 17" in the rear - full led lights, 23 l maxi tank to tackle any journey without worrying about running out of gas, cruise control, and control unit with three settings: asphalt-wet-off-road!

My impressions are exclusively sensorial, the new Guzzi V85TT is very easy to ride even by those approaching the adventure bike world for the first time, also because acceleration is powerful but progresses softly. The riding position is comfortable, riding upright on light off-road, you have full control of the vehicle, despite being a rider with little experience in this discipline.
With the 4.3 "display the dashboard is very clear and legible. Moto Guzzi also offers, as an option, a control unit compatible with smartphones thus extending connectivity with other apps.
The bike I tested was equipped with ample aluminum bags and top case, useful on long trips.The very comfortable saddle, with the "Moto Guzzi" logo embossed, can easily accommodate a passenger if you want company on your trips.
I was pleasantly surprised by the care taken in reproducing the effigy of the Mandello eagle on several details, as well as the contrasts of colors that evoke the old-style of glorious motorcycles and even more glorious adventures.
Fun rides to the buyers of the new Guzzi V85TT!
Text and tester: Stefano Limoni
Photos: MBfotopress
Clothing: Hevik Titanium
Helmet: Hevik Montauk
Boots: TCX Adventure Baja Gore-Tex