Test and previews Thu 31 January 2019
Test SHERCO SE-R 300 2-stroke FACTORY
It's the morning of Christmas Eve when I arrive at the place set for the test and, as soon as I get there, I see her on the kickstand ready to be mistreated in the woods of Valpantena; the first thing I notice as I'm looking at it are the suspensions. From this year, the factory models are going to beequipped with Kayaba suspensions instead of WP. Other quality components are the Neken plates, complete FMF exhaust, blue anodized bimetal crown, very strong plastic engine guard plate, cooling fan as standard, in short, everything you need to have a race-ready bike.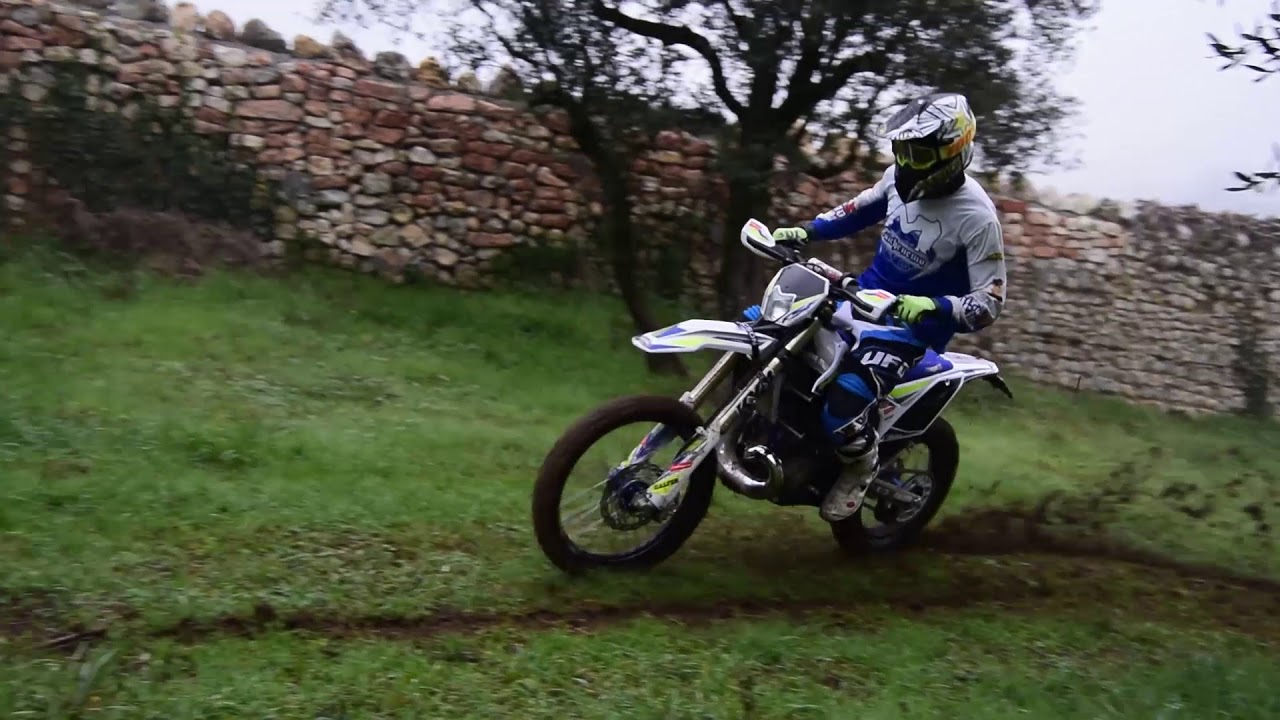 A few minutes for posed photo shooting and off I go; my first feeling is that I'm riding a fairly leanmotorcycle with a very stable front-end, now I'll just have to put it to the test. As I gradually give it gas, I can feel the denseness of the engine that pushes even at low rpm (rpm increase so linearly that the bike almost feels electric), but let's not forget that it is a 300 and I can't take it too lightly. At high revs the engine pushes hard and grants a good sprint. Changing its mapping I experience a noticeable difference in delivery; at low revs the engine is so smooth and drivable that the bike becomes a tractor, at high revs it loses a bit of sprint, but this makes it easier to take on hard stretches and areas with poor grip.
The suspensions are perfect, the fork works divinely, it is precise and feels great right from the startriding slow as well as fast. Even when I adjust the hydraulic settings, I can feel the difference with a couple of clicks. Another plus is that the more you increase the rhythm and open the accelerator the better it runs; the mono is steady and transmits traction very well; even in this case, if I act on the different settings, I immediately feel the difference.
In the end, I think that this model has been created for who is looking for a bike to go racing or hasa certain pace or knows what he wants from a bike considering the equipment the bike has fitted as standard; for those who use the bike for Sunday rides with friends, I'd suggest the Racing version which is "simpler" and cheaper.
Congratulations to Sherco for the technical level of this bike, which can be immediately used in a race, without requiring interventions or changing anything.
Text and tester: Michele Zoppi
Photos Nicolas Conti